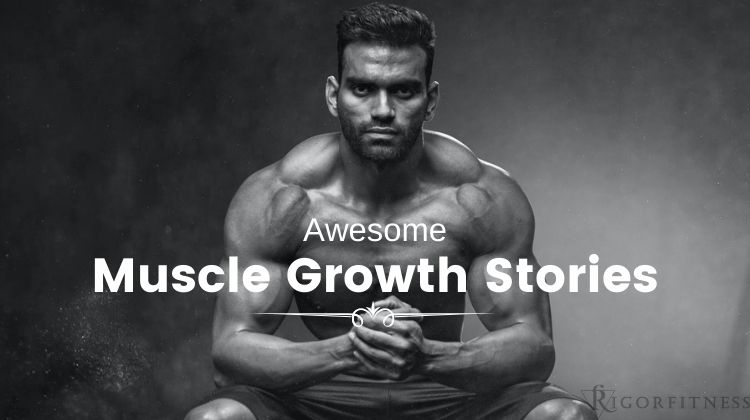 Transformations don't come overnight. It will take months and years of hard work and discipline to get the fit and healthy body you want to achieve. And yes, I know how tough it is trying to stay motivated, especially when it feels like nothing is changing. One thing that's helped me stay motivated is reading different muscle growth stories, which has inspired me to keep pushing forward! If you want to get that nudge to continue your diet and workout regime, read on.
I'll be sharing my favorite muscle growth stories that have helped me continue my fitness journey.
Awesome Male Muscle Growth Stories
Here are 2 muscle growth stories from men to reignite your passion and energy:
1. Rashard Keen
Rashard Keen had a moment of awakening in April 2013, when he had his son. He was 350 pounds back then, and after the birth of his son, he asked himself, "what type of legacy will I leave if I continued on this unhealthy path?"
So he decided to begin his transformation and never quit until he achieved it. A year later, he was 208 pounds with 5% body fat, joining his first bodybuilding competition!
Losing over 100 pounds took a lot of effort, from his diet down to a strict exercise regime. It came with tremendous benefits, such as being able to spend more time with his son and feeling healthy enough to feel confident that he can spend a long life with his family. It was thanks to the support from his family and loved ones that kept him going, even if the journey was tough at times.
He was strict with his goals, which meant no more drinking, pizza runs, or fulfilling any late-night cravings! He had his own coach and continued a strict strength training routine to build muscle.
Now, his future is much brighter, as he plans to work with his coaches and continue competing in bodybuilding competitions, writing a book to inspire others to live a healthier lifestyle.
2. John Glaude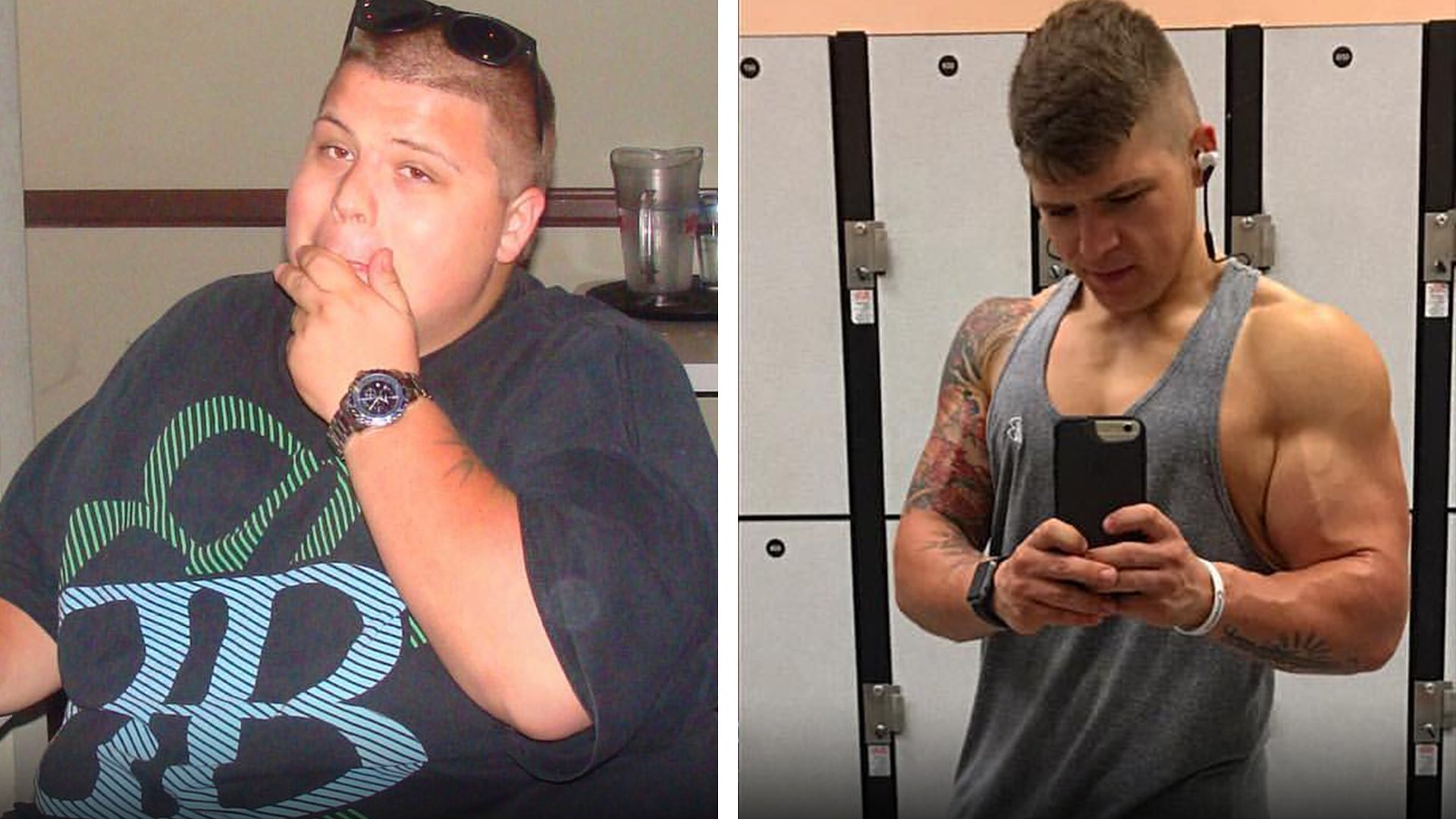 John Glaude is a YouTube personality who lost a whopping 170 pounds! He did it a healthy way, going slow and steady to avoid relapsing.
He started off by changing his diet then committing to regular training, which has not only changed his body but his quality of life, both physically and mentally.
His YouTube channel and Instagram, "Obese to Beast", showed the true side of his fitness journey, which has had him garner thousands of fans and followers. From 360 pounds, he became a muscular beast at 190 pounds, all without a personal trainer but well-equipped with research.
Today, he wants to continue inspiring people through his social media posts and videos, continuing his fitness journey (it's a lifelong commitment!). He has many plans that he would like to pursue in the future thanks to his followers, such as online coaching.
Awesome Female Muscle Growth Stories
Who says women can't build their bodies, too? Here are 2 muscle growth stories from women that will have you begin your workout:
1. Kate Jones
Kate Jones started off like your regular student-athlete, who did cross-country and track throughout middle school and high school. However, she got caught up with the "freshman 15", then ended up eating even smaller quantities of food. Her daily diet used to be 2-3 eggs for breakfast, tuna and crackers for lunch, and instant noodles for dinner!
Her health deteriorated and the more fatigued she felt, even if she was taking up cheerleading, though with no proper workout regime.
So that was when she began incorporating more fitness into her life, starting off with strength training. She then began a structured workout regime and eating more portions of nutrient-dense foods. Kate then lose inches while gaining muscles, seeing more definition around her body!
From 120 pounds to 105 pounds, Kate is now at her happiest and continues to work out like a beast with a 10% body fat composition! She does a 5×5 workout program and goes through a cut-bulk cycle to shed fat, then gain muscle.
Not only has Kate become stronger, she now feels physically and mentally better. Gone are the days where she felt "skinny fat" or a stick. She is more confident and even began competing, feeling encouraged by the help of her loved ones and the fitness community.
2. Katie Rutherford
Katie used to struggle to control her weight. Her initial goal when she was younger, her main goal was to run as fast as she can and at longer distances. She began running competitively, though this is what triggered her disordered eating, as she wanted to be as thin as the other girls she competed against.
Her thinking was "the lighter she was, the better she will be". While losing weight did help her speed, she then dropped too much weight to the point she was malnourished.
It took a few years, but Katie then found her passion for powerlifting and figure competitions.
She first had to put on weight to be able to run and begin lifting weights, incorporating it into her running program because of its benefits. However, after a stress fracture, she began focusing more on lifting, now with the goal of being stronger and having a muscular physique.
Now, she eats healthier with flexible dieting and counting her macros, decreasing cardio, and focusing on lifting heavy! She now has her own business as a coach, giving nutrition and training recommendations, as well as holding powerlifting seminars to encourage others to be healthier and lift heavier!
Other Tips to Stay Motivated
Besides these muscle growth stories, what else can you do to stay motivated when you feel down during your fitness journey? Follow these helpful tips:
 Set Goals and Put It on Paper
 Start off by setting simple goals, later progressing to longer-range goals as you go. Make sure that your goals are realistic and achievable, I know how frustrating it gets if goals become too ambitious, because it's difficult to do so people give up.
Try short-term goals such as walking for 10 minutes daily, then after a week, increase the time you walk, until you reach a long-term goal of walking up to 5 kilometers!
One way you can feel better with your goals is by putting them on paper, writing them down to keep you motivated. It's also helpful having an exercise diary to talk about how you feel and the efforts you put in for the day. This can help you work towards your goals, reminding you about the progress you're making.
Make It Fun and Regular
 Exercising isn't fun when you're forcing yourself to do something you don't enjoy! Instead of sticking to a "boring" workout, find activities and sports you enjoy, varying the routine so it stays fun and interesting. Try something different like volleyball, softball, or even go dancing and try martial arts classes!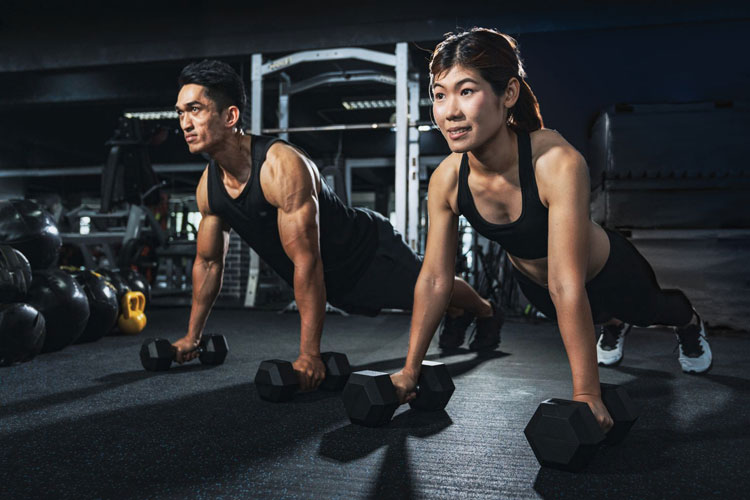 You might end up loving one of these activities and discovering your hidden talents. Exercise doesn't need to be boring and a chore, you will most likely stick to fitness programs when you love what you're doing.
Also, when it comes to exercising, some people might have a hard time finding the time for it. But never fall back on excuses and stick to a strict schedule, just as you would with important work and errands. You can even slip in a few minutes of physical activity throughout your day, such as taking the stairs, walking during your work breaks, or doing strength training exercises as you watch TV!
But of course, you don't need to stick to the schedule to a T. Some people may feel fatigued or just not up to the task some days. You can take one or two rest days and be gentle when you need the break. Just make sure that you get back on track as soon as possible. 
Get the Right Support
 And of course, if you want to feel motivated, there's nothing better than having your loved ones cheer you on. Invite your family, friends, or co-workers when exercising, encouraging you to eat, and exercise with you.
You can also organize a group with your loved ones or neighbors to take fitness classes in your local gym. There are also online communities that you can talk to when looking for advice or motivation to get up. You'll be surprised by the many people who are in the same boat as you, so cheer yourselves on!
 If you want to learn more about staying motivated throughout your fitness journey, check out this informative video:
 Wrapping It Up
As the new year is approaching, you're given a clean slate and new chances to build your strength and test your limits, proving to yourself that your mind and body can do whatever it can! These stories prove it, and you can have your own transformation story, all you need to do is to get started. Just take baby steps, which are already huge leaps on their own.
 I hope that these muscle growth stories gave you the push you need to continue and get going! Save these stories for the next time you feel in a slump, and follow the tips mentioned above, too. Good luck!
Do you have questions or want to share your own muscle growth story, too? Share them in the comments section below, all your comments are much appreciated.