It looks like you're interested in working out your shoulders. To get effective shoulder exercises with a barbell, you need to have the factors that help develop every other muscle group. You need to select exercises optimal for deltoid development. You also need proper loading parameters (sets, reps, weights) based on your goal, and your frequency of training must be set.
If you want added muscle mass, you must acknowledge that shoulder exercises aren't created equal for everybody. Depending on your body type, leverage, and muscle dominance, you'll be able to get a better deltoid contour with some barbell exercises.
The Best Shoulder Exercises Depending on Your Skill Level
#1 – Muscle Clean and Push Press (Basic Deltoid Exercise)
This basic shoulder exercise requires coordination. Muscle Clean and Push Press are a two-part movement. Muscle Clean is bringing the bar from your knees straight to your shoulders. Lifters call this move the "shouldering." Make sure to hold the barbell close to your body.
The second part of the exercise is the Push Press. This is where you lift the bar from your shoulders to overhead, and then you lower the bar back to your shoulders, down to your knees, and repeat. You hit two birds with one stone during this exercise because you also stimulate your traps here.
If you're a beginner and can only do a single workout for your deltoid training, then this should be your exercise.
#2 – Barbell Military Press (Basic Deltoid Exercise)
This exercise takes its name from the posture soldiers make when they're standing at attention: Your chest is puffed out, your heels are close together, legs are straight, your chin's tucked in, and your shoulders are straight back. It's basically a standing shoulder press. There will be no leaning of the body. You just keep the military posture at all times throughout the exercise.
Make sure you don't lock your elbows at the top of the movement. The Barbell Military Press improves your trunk muscles as well, developing your hip musculature and your core.
See how the Barbell Military Press is done in this video.
#3 – Seated Barbell Military Press (Basic Deltoid Exercise)
While the Seated Barbell Military Press minimized your hips, core, and glutes' involvement, it will allow you to use more weight. Adding weight to your shoulder exercise stimulates growth on your shoulders. This exercise, however, creates a hyperextension when you bring the bar behind your neck, so it's not recommended if you're experiencing shoulder problems.
To do the Seated Barbell Military Press, you'll have to sit on a military press bench with a bar behind your head. It's best to have a spotter hand you the bar if you have trouble picking it up with a pronated grip.
Lift the bar up and hold at shoulder level, slightly in front of your head. Now, lower the bar to your collarbone as you inhale, and lift it back up while exhaling. Repeat as needed.
For your safety, we advise using only equipment of proven brands, such as Deadlift Jack.
#4 – Single-Arm Corner Press (Secondary Deltoid Exercise)
Compared to other shoulder exercises, the Single-Arm Corner Press places less strain on your rotator cuff. It is recommended for those with tendonitis. It's a relatively pain-free movement where you place one end of the barbell in the corner of the room, and you load a weight plate on the opposite end of the bar.
Stand by the end where the weight is placed. Lift the weighted end of the barbell a few inches from your shoulders. Press in upward and forward at a 45-degree angle. You can also do this in a squat position with the knees bent at a 135-degree angle. This is the push press position where you push the barbell with both your legs and arm.
#5 – Reverse Grip Barbell Bench Press (Secondary Deltoid Exercise)
The Reverse Grip Barbell Bench Press is an ideal exercise if you wish to have stronger shoulders and if you're trying to heal your joints. This barbell exercise will have you gripping the bar with your palms facing you.
It's best to use a spotter for a safer workout, but you simply move the bar from the rack to your chest while you lie on the bench. Make sure not to lock your elbows at the top of the movement.
The safety pins must be at your chest level when you lie flat on the bench. The Reverse Grip Barbell Bench Press is tricky. To avoid losing control of the barbell where it goes too far back, try to focus on pressing the bar up in a straight line above your chest.
If you don't have a spotter to help you re-rack, tilt your arms slightly backward. The barbell should land just above the J-hooks.
#6 – Barbell Front Raise (Isolation Deltoid Exercise)
A barbell front raise works the front deltoid more than the medial and rear delts. When done with an elbow turning outward, it's effectiveness is boosted. To do the barbell front raise, turn your elbows out and keep the torso slightly bent forward.
This is going to increase the involvement of the front portion of your deltoid. Try to rotate the elbows to squeeze your deltoid's lateral head. Do this at the top of the movement.
Barbell Front Raises are an isolation exercise. An isolation exercise requires you to focus on a strict technique for the most effective workout. Make sure you avoid rocking your body while lifting. Your movements must be controlled, and elbows must not be fully straightened.
Deltoid Exercises Are Divided Into Three Groups
#1 – Basic Deltoid Exercises
Basic exercises for your shoulders will have the most serious effect on your gains and muscle mass, but they tend to develop just certain parts of your deltoid. Mostly, it's the anterior head of your deltoid that's going to be stimulated more than the other parts.
While you can get overall muscle mass from basic deltoid exercises, they aren't going to develop your shoulders to get to their healthiest and strongest condition alone.
#2 – Secondary Deltoid Exercises
Secondary deltoid exercises involve not a lot of big movements, but they aren't isolation exercises either. These are intermediate exercises that are excellent for overall mass building, but also for toning specific portions of your deltoid.
#3 – Isolation Deltoid Exercises
Isolation deltoid exercises involve movements that stress on a particular muscle portion. These exercises isolate a muscle group as they concentrate on that single group of muscles.
If a specific part of your deltoid is understimulated or you feel you are more dominant in one of your deltoid heads, then you can focus on doing isolation workouts.
The Deltoid Muscle Is Split Into Three Sections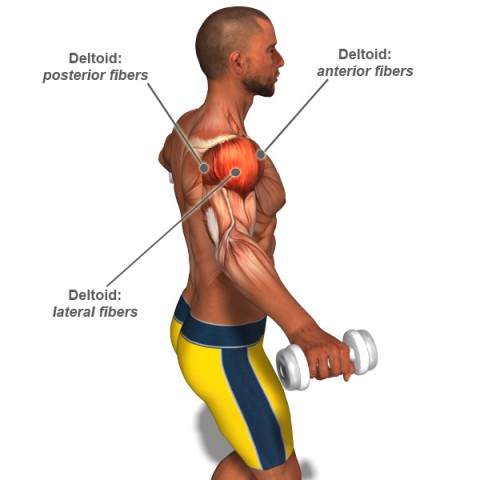 #1 – Anterior (Front)
Deltoid's anterior section attaches onto the outer third of the clavicle. The role of the anterior is to allow your arm to flex and rotate at the shoulder.
#2 – Lateral (Middle/Side)
The lateral section attaches to the scapula or shoulder blade's edge. It is for working the side part of your shoulder. Your lateral deltoid abducts your arm at the shoulder joint; meaning it lets your arm do the sideway up movement.
Watch how the abduction of the arm happens in this video here.
#3 – Posterior (Rear)
Your posterior deltoid is strongly involved in transverse extension. It is the key muscle involved whenever you raise your arms at shoulder level and try to move them to your sides horizontally.
Some Reminders For Working Out Your Shoulders With A Barbell
One set is generally enough if it consists of 8-12 repetitions reaching muscle fatigue.
If you can, do front, side, and rear lateral raises for full shoulder development.
Do a shoulder mobility warm-up to get your rotator cuff ready.
​Do negative reps.
Rest for a maximum of 60 seconds when you do isolation exercises.
Effectively Working Out Shoulders Come From Knowing
If you're looking to make your shoulder stronger and buffed, you should always try to work the three sections of your deltoids. That's the key to getting a complete shoulder workout that yields results. The number of sets, repetitions, and weights you're using is also important to figure out before shoulder training.
Have you been trying to work your shoulders? What shoulder exercises with barbell do you find most comfortable to do? Let's share stories and tips in the comments below! If you found this article useful, please feel free to share it with friends!