Yoga is all about losing yourself in a series of mentally and spiritually enlightening movements. It's a physical activity not often associated with having a lot of corresponding equipment, but of course, if you have participated in yoga at all you know that is not explicitly true.
A good yoga towel will allow you to relax and focus strictly on your movements, but unfortunately, not all yoga towels are created equally and it can be a real bummer spending good money on a product that is not satisfactory. That is why we have assembled a guide of the best yoga towel on the market! Sit back, and enjoy your guide!
Our Top 10 Best Yoga Towel Choice
1. DubeeBaby Non-Slip Absorbent Microfiber Hot Yoga Towel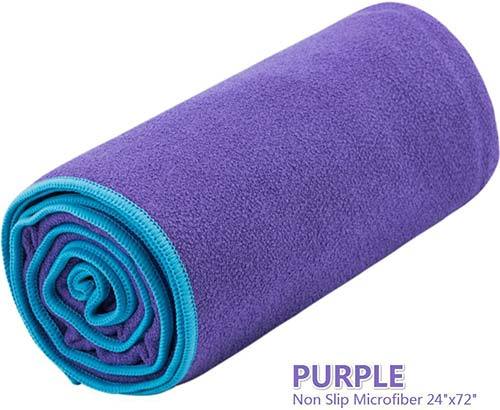 What we like:
Non-Slip: The material at work here is made to be soft and durable, but still tacky enough that you aren't going to slip as you engage in poses or other athletic yoga maneuvers. It would be hard to overstate the importance of non-slip material in the world of yoga towels.
Since this is the material that you will be standing on for footing, it is imperative to your safety that you not have to worry about slipping mid-pose. That this towel can boast highly effective non-slip material is an important plus.
It's Spacious: The DubeeBaby boasts dimensions of 24 x 72 inch—more than enough space to cover your entire yoga mat. The benefits of this are of course obvious as coverage is indeed the very function of this product. Still, it is worth noting that with complete mat coverage you will be able to focus less on what is beneath your feet, and more on the class itself. You'll also have more slip-proof surface at your disposal, and of course an increased capacity for sweat absorption, which is always nice. Speaking of which….
Super Absorbent: The same microfiber material that makes this towel a safe non-slip surface also makes it highly absorbent to sweat. Anyone who has ever taken a hot yoga class before needs no explanation as to why that is of value. Sweat absorbs completely and can be cleaned quickly so that the towel is ready for use again the next day.
What we didn't like:
None: It's fair to skeptical of the statement that this product has no cons, but the truth of the matter is that the DubeeBaby succeeds on all fronts of importance, making it an excellent buying option for yoga enthusiasts everywhere.
---
2. YogaRat Yoga Towel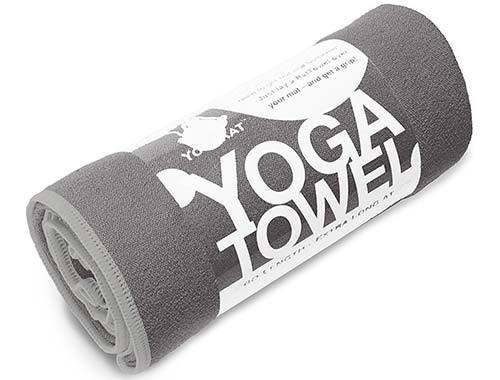 What We Like:
Dry Use: In the world of yoga towels a common practice is to wet the towel ever so slightly before class so that it won't bunch up as you work. This practice is not the most inconvenient thing in the world, but no one loves needing to do it, and with the YogaRat towel you do not have to.
This towel is optimized to stay in place as you move without the need to wet it—a small but convenient departure from a practice that can be a little bit frustrating.
Size: Size isn't everything, though in the world of yoga towels it is a pretty important factor. This unit features dimensions of 24″ x 72″ or 24″ x 68—which means that it is yet another product that will cover your entire mat so that you do not need to worry about getting sweat or bacteria on it as you workout. The encompassing size also ensures that you have more than enough slip-free surface to comfortably work around.
Hand Towel: I should mention that the hand towel is sold separately but if you are willing to spend a few more dollars you can get a smaller towel made of the same material that will make it easy and efficient to wipe sweat from your forehead as you go about your yoga class.
What We Didn't Like:
Slow to Dry: This towel takes a little bit longer to dry after a wash than some comparable products. This isn't necessarily a huge deal but it can be a little bit frustrating if you are gathering your things to head off to yoga class only to find that your towel is still wet.
---
3. Shantihi Hot Yoga Towel
What We Like:
Soft: Hey, comfort counts. The material at work in the Shuantihi yoga towel will feel good under your feet as you practice. Isn't it nice when a product both functions highly and manages to do so without sacrificing comfort?
Size: With dimensions of 72" x 24" this towel will comfortably cover all standard sized yoga mats. This is a pro that is worth stating for every towel that it pertains to because towels that don't cover the surface area of your mat put you at risk to slip.
Ebook: This towel also comes with a code that will enable you to download a free yoga book that details ten common poses. If you are new to yoga this is a great perk that will help you get started.

What We Didn't Like:
Washing Difficulties: This yoga towel is machine washable, but unfortunately some units experience damages after several washes. This definitely is not a common defect, but it is worth noting that it happens on occasion.
Keep in mind that if you practice hot yoga you will probably want to wash your towel often (quite possibly after every session) which will increase your risk of encountering this defect.
---
4. Yoga Jaci Yoga Mat Towel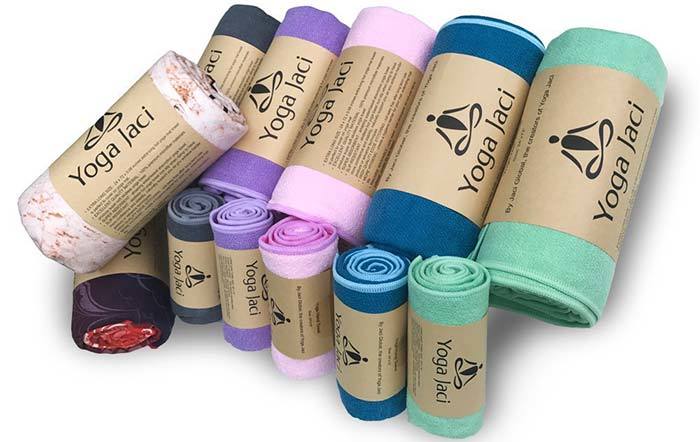 What We Like:
Combo Set: Not only are you getting a yoga towel with this purchase but you are also getting a hand towel that you can use to dry your face as you practice. It's a small perk, but it is certainly a nice perk, especially if you don't already have a hand towel.
Absorption Friendly: The Yoga Jaci Yoga mat is made of polyester and polyimide-both materials that are optimized to absorb as much sweat as possible. Yes, sweat absorption is one of the primary things you are buying a yoga towel for in the first place, but it is still a big pro—especially when a product does it especially well.
Mat Size: Another feature that you have come to expect, but it is nevertheless good to know. The dimensions of this towel are exactly that of the common yoga mat, meaning you won't need to worry about getting sweat and bacteria on your mat as you work.
What We Didn't Like:
Slow to Dry: This towel dries a little bit slower than average which can be something of a drag if you aren't already aware of it. Slow drying towels definitely aren't ineffective, but you do need to build a little bit more time into your washing if you intend to have them dry in time for your class.
Thin, slippery. You have to spray water on it before using.
---
5. Heathyoga Yoga Towel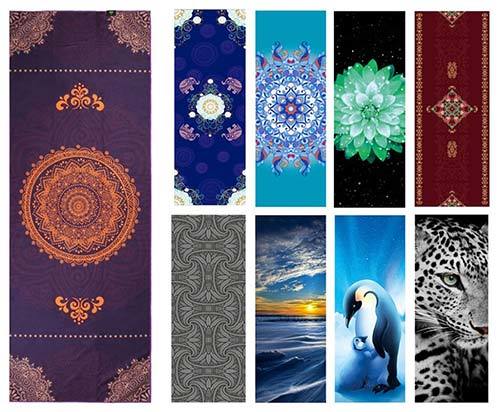 What We Like:
Attractive Design: Most of the towels that we have looked at on this list have been pretty plain jane. There is nothing wrong with that but a little bit of design can make a yoga mat more fun.
This towel line features an extensive list of design options that will allow you to pick a product that you find visually appealing.
Hooks Into Your Mat: The Heathyoga towel features corner hooks that firmly secure the product in place on your mat so there is literally no possibility of slipping. Ordinarily, even the best mats are going to bunch up a little bit after extensive use but with this towel, it isn't even possible.
Big: With dimensions of 72″ (183cm) long X 25″ (65cm) wide this is one of the larger towels that we have looked at on this list. It will definitely fit comfortably over any mat which is a big plus.
What We Didn't Like:
Wash: The print options definitely look cool, but they hold up delicately in the wash. On the right settings, you can preserve the integrity of the images, but it nevertheless still is definitely worth noting that standard wash cycles may be damaging to the prints.
---
6. Youphoria Yoga Towel
What We Like:
Skidless: This towel is optimized not to move around much (or at least as little as possible) as you practice your yoga. This feature obviously is going to make the towel safer, as skids can increase your risk of sustaining injury by leading to mid-pose falls.
The skid-less feature works best with the application of a little bit of water, but will still work when the towel is dry.

Machine Washable: Hot yoga towels encounter a lot of sweat (that's kind of their job, actually) but it doesn't matter so much when the towel is also easy to wash. You can wash this product the same way that you would any fabric so that it is easily ready the next time you need it for yoga class.
Super-Absorbable: The absorption material at work in this towel is very effective which means that you will have a nice, dry, slip-free surface as you practice your yoga.
What We Didn't Like:
No Dryer: The dryer is no friend of this towel, and can, in fact, damage the liner, so be wary of that as you wash it. This isn't necessarily a huge deal but it can impact when you decide to wash it. You will need to factor in the time it takes for your towel to air dry in order to make sure that it is working order for your next yoga class.
---
7. Yoga Mate Yoga Towel
What We Like:
Easy to Clean: Not only is this towel machine washable, but unlike many of the other options featured on this list, it requires no special settings to be safely cleaned. Simply throw it in with the rest of your colored load and then forget about it.
Maximum Absorption: The Yoga Mate towel boasts an impressive absorption capacity that makes it ideal for handling even the most intense sweat sessions that you might encounter working for the hour or more that you might spend in a one-hundred and four-degree yoga studio.
Guarantee: Yoga Mate also offers a money back guarantee, so if you end up unhappy with this towel you can send it back for a full refund.
What We Didn't Like:
A Little on the Small Side: The dimensions at work here (68″ x 24″) are technically sufficient but they don't give you a lot of wiggle room. If you accidently shrink your towel in the wash, it may cease to cover your mat entirely
---
8. Pseudois Yoga Mat Towel-Microfiber Hot Yoga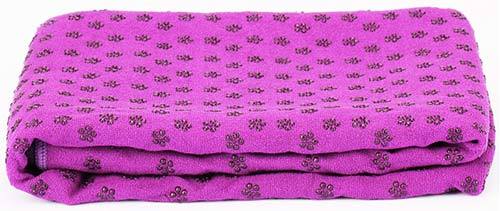 What We Like:
Grip Dots: Without visual reference "grip dots," may not hold much meaning to you so you're just going to have to take my word for this one. The Pseudois yoga mat features grip dots printed on the surface that will add a comfortable level of tackiness that will keep you from slipping.
Affordable: Price is of course going to vary from vender to vender and even from day to day, but in general this product is the most affordable towel that we have examined on this list by a fairly significant margin. If you like to snag a bargain (I know I do) this might be a good route to take.
100% Microfiber: I mention this as a plus because microfiber notably dries faster than other common yoga towel materials such as polyester. A quicker dry generally means that your towel will retain its tackiness throughout your entire session.
What We Didn't Like:
Durability: Durability seems to fade around six months or so with this towel. With the bargain you are getting, that's a trade you may be ok with. It's also worth mentioning that with careful handling you may be able to extend the life of your towel by a pretty large margin.
---
9. 
Reehut Hot Yoga Towel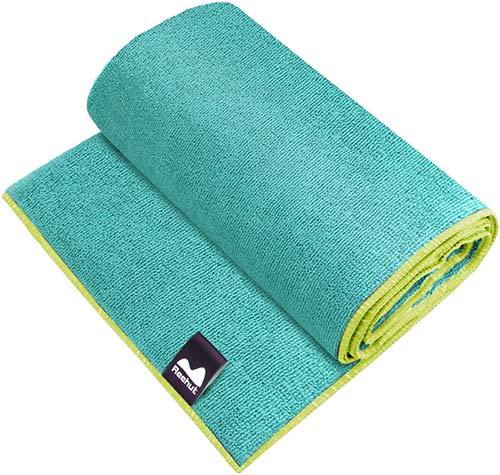 What We Like:
Machine Washable: Another towel that is completely safe to wash in the machine, regardless of setting. You can clean your Reehut hot yoga towel confident in the fact that it will have retained its quality when you take it out of the wash.
Highly Absorbent: This towel is of microfiber construction. As I have mentioned already, microfiber is a little bit better at absorbing moisture than other comparable yoga towel materials.
Perfect for the Yoga Enthusiast on the go: This towel is designed to be used as a portable yoga mat in a pinch. No, it isn't quite as padded, but the materials are optimized to keep you comfortable regardless of what setting you find yourself. If you like to do your yoga on the go, this might be a useful feature for you.
What We Didn't Like:
Bunches: Unfortunately, the mat tends to bunch a little bit more than some users may prefer. If you mist the material with water a little bit before use, you may not experience this defect quite so much, but regardless the Reehut does bunch more than most comparable products.
---
10. Gaiam Yoga Towels
What We Like:
Super Absorbent: This towel dries twice as quickly as comparable products. This is a pretty big benefit considering that the slipperiness of sweat is both gross, and a hazard to your safety. A quicker dry minimizes your risk for slipping as you practice your yoga which is  a valuable feature for anyone that doesn't want to sustain easily avoided injury.
Hypo-Allergenic: For those that suffer from allergies, this product has you covered. Fabric allergies, in particular, can be extremely irritating but you don't need to worry about them with the Gaiam yoga towel.
Machine Washable: To safely machine wash this product you are going to need to put in on a cold setting, but aside from that it can be very convenient to clean and dry in a pinch.
What We Didn't Like:
Slightly on the Small Size: With dimensions of 24″ x 68″ this is actually one of the smallest towels that we have featured on this list so far. While it isn't necessarily a big con—the towel will still cover most standard mats, you are also without a safety net. If the towel bunches up (as even the best sometimes tend to do) it will leave you vulnerable to slipping, and/or bacteria.
---
Yoga Towel Buying Considerations
By this point you have now seen a pretty wide variety of some really cool yoga towels. It would be very reasonable for you not to be extremely sure which of them is best for you. Whether you decide to buy a towel from this list, or shop elsewhere, here are a few buying considerations that will help you to simplify the process of buying a yoga towel.
Grip

Size

material

cleaning it

appearance

durability

extras
Grip is probably the most important aspect of any good yoga towel, so you will want to make sure that the one you end up choosing has plenty of it. The tackier the grip of your towel the better.
Try to keep in mind that there are variations when it comes to grip tackiness. For example, some of the products that we looked at on this list relied strictly on the fabric to provide a good grip, while others used textures such as "grip dots," to add a little bit extra tackiness.
No one way is necessarily better than another when it comes to methods of providing grip. Just be sure to choose one that you are comfortable with and the rest should fall into place.
One Final Thing to Consider
Yoga is all about feel. If you like the way that a towel looks or feels that might be enough to make it a good buying option for you. Yes, you should definitely factor in the material, the absorption capacity, and how easy it is to wash, but at the end of the day if you like the tool that you are buying that should be enough to make it right for your needs.
Final Thoughts
Well, that's a lot to take in, isn't it? There are a lot of great towels featured on this list and while that might make choosing a little bit more difficult, the truth of the matter is that you actually have a relatively simple choice on your hands.
Every single one of the above-illustrated options will work great for all styles of yoga. All you need to do is take a close look at the features and decide which one best suits your needs. You'll be glad that you did when your next yoga session goes smoother than ever before!