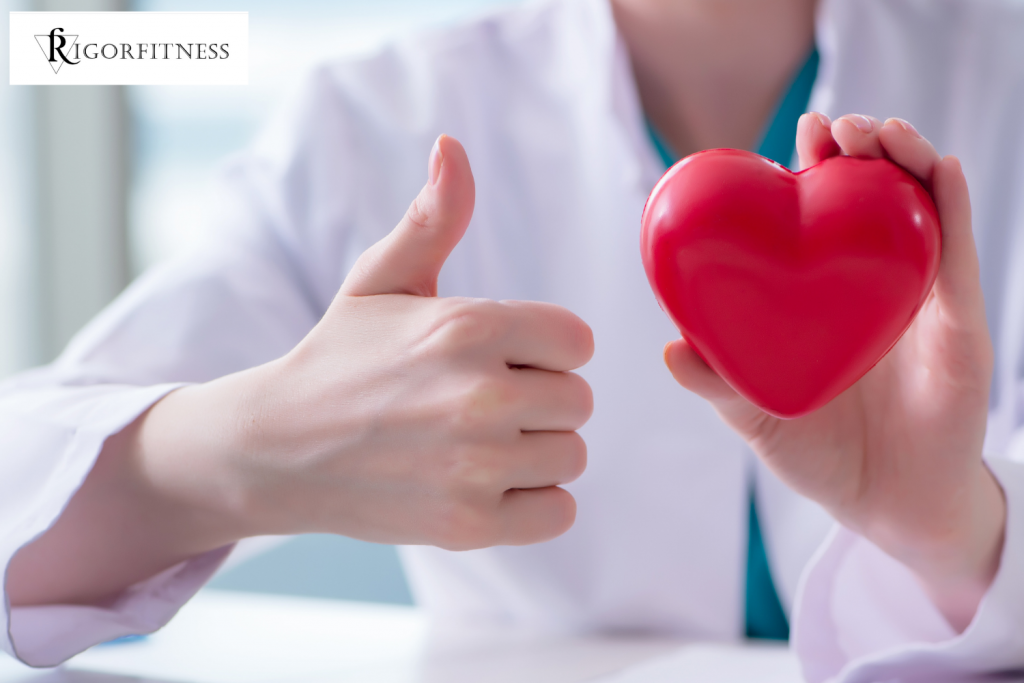 The cardiovascular system is also called the circulatory system. The circulatory system of humans is a closed system that transports nutrition, oxygen, CO2, hormones, and other metabolic products. It consists of the heart and blood veins via which it delivers the blood, as the name implies. Here in this article, let's see Why Is Cardiovascular Fitness Important and its products.
The Cardiovascular System's Structure
Thanks to blood, it is possible to distribute all necessary substances for the body, such as nutrients and oxygen. The cardiovascular system is in charge of transporting all of our body's essential components. It is used to extract metabolites and carbon dioxide from particular tissues, then transported to the proper excretion locations.
The heart, as well as the network of blood veins, make up the cardiovascular system. Blood transports through the body's vessels, which create a complicated, closed system of tubes. It is known as the cardiovascular system as a result of this.
Veins, arteries, & tiny capillaries make up the cardiovascular system. The arteries' job is to deliver blood away from the heart and to all of the body's tissues. Capillaries, in turn, allow the exchange of vital substances such as oxygen with the surrounding tissues. The veins, on the other hand, are responsible for returning blood to the heart. It separates the body's blood circulation into two circuits: a miniature course and a large circuit. The pulmonary circuit is a tiny circuit that carries oxygen to the bloodstream. The big circuit (also known as peripheral or systemic) is responsible for delivering oxygen-rich blood to all body cells.
The Heart's Function In The Cardiovascular System
The heart, as the central organ of the cardiovascular system, plays a critical part in it. It is a pump that circulates blood throughout the body constantly. In just one minute, five liters of blood pass through this incredible organ. It's worth mentioning that this is the same amount present throughout the entire human body.
The following is how blood travels through the heart: Blood that is deficient in oxygen moves from the right atrium to the right ventricle. Then it travels to the pulmonary artery, also known as the pulmonary trunk, and is taken to the lungs, where it gets rid of carbon dioxide and takes away oxygen due to the blood vessels.
The heart's oxygen-rich blood travels first through the pulmonary veins to the left atrium and then into the left ventricle. Ultimately it travels to the main artery, the aorta, and then to every part of the body. The depleted blood of oxygen returns to the heart's right atrium via the central veins.
Cardiovascular Fitness:
Why Is Cardiovascular Fitness Important: Cardiovascular fitness measures a person's physical labor capacity in terms of oxygenation capacity per kilogram of body mass over time.
What Does Cardiovascular Fitness Entail?
Walking, running, jogging, cycling, diving, aerobics, paddling, climbing stairs, trekking, cross-country skiing, and various dancing styles were examples of "pure" cardiovascular activities. Soccer, volleyball, squash, & tennis are among sports that can help you enhance cardiovascular fitness.
Here Are Few Suggestions For Improving Cardiovascular Fitness:
1. Ensure That Your Cardiovascular Exercise Is Varied.
Your physique adapts fast to a training program you do, making it more challenging to get the same outcomes. Switch up the device and the way you train to keep experiencing the advantages of cardiovascular exercise. It is known as the cardiovascular system resulting from this daily or perhaps even weekly to maintain your workouts exciting & effective.
2. Train Only At The Right Levels Of Intensity.
A heart monitor is among the most helpful pieces of equipment for fine-tuning your cardiovascular workouts.
To attain the best physiological outcomes, continue to practice around 60-80% with your maximal heart rate. Can use the RPE approach if you're not using a heart rhythm monitor.
3. Allow Yourself To Relax At The Proper Times.
Set the working periods between 15 to 60 seconds, with a work-to-rest ratio 1:3 and 1:4. For instance, on the bike, complete a 15-second sprinting interval followed by a 1-minute rest period. The whole workout time might range from 10 to 30 minutes.
4. Progress!
You are constantly progressing. Either you increase seconds in the workout intervals, subtract moments from the regular breaks, or raise the overall length of periods you do in a session. Because your body would quickly respond to your exercises, you should remember to always aim for increasingly difficult sessions throughout time.
Benefits Of Cardiovascular Fitness
Why Is Cardiovascular Fitness Important: Check out these heart-healthy factors why you should include regular cardiovascular activity in your daily fitness routine:
1. Reduce Your Blood Pressure.
A good heart pumps out more significant blood for each pulse, allowing it to operate more efficiently. It reduces the amount of stress mainly on nature & surrounding vessels, possibly lowering blood bp. Cardiovascular exercise could help people lower their blood pressure when they suffer it. When you don't already have high bp, exercise can help keep it from getting worse as you get older.
2.Boost Blood Flow.
Consistent cardio-based regular exercise helps the heart attain better blood flow inside the small veins surrounding it, where tissues could build up over time and cause blockages. Improved circulation within those locations may reduce the risk of heart attacks. Shows some activity to stimulate the body to form additional physical linkages between those tiny blood arteries, giving the blood other options for getting where it wants to go.
3. Increase The Effectiveness Of Your Workout.
It could take some time for the body to acclimate to a quicker speed when you start a new workout plan that involves cardio activities. However, the greater you exercise regularly, the faster your body will draw vital oxygen from the blood following workouts. Individuals who practice regularly possess hearts that perform much better beneath stress and become less winded while exercising routines due to this. Regular cardio additionally helps your body recuperate faster after a workout.
4. Lower Your Cholesterol Levels.
Many studies have connected exercise to beneficial cholesterol changes, such as boosting the quantity of good HDL cholesterol & perhaps lowering harmful LDL cholesterol by up to 10%.
5. Reduce Your Chances Of Developing Heart Illness, Stroke, Or Diabetes.
Regular exercise was shown in studies to reduce the incidence of significant cardiovascular disease by about 21% for males & 29% for females. Furthermore, physically active persons had a 20% lower risk of stroke. Physical activity also helps maintain healthy sugar levels, lowering the risk of prediabetes & type Two diabetes.
There are types of equipment available on the market to maintain and improve your cardiovascular health. We discuss some of the devices and equipment below.
1. Proactive Portable Pedal Exerciser, For Cardiovascular Workout
Specifications:
Brand- Pro-Active
Colour- grey
Weight-5.51 pounds
Battery- Required
You may get one impact-free cardio workout throughout the comfort of home with ProActive Digital-Pedal Exercisers.
Setup is simple and requires no tools. Time, rotations (reps), reps/minute, & caloric burn are all measured by the built-in CPU featuring LCD. The sizeable variable resistance control knob is small & comfortable to hold.
You could use it on the ground to work on legs or even on a desk to work on the upper body.
The ProActive Cycle Exercisers were constructed with chrome-plated metal & thus are small enough to fit beneath a chair and bed. The foldable pin makes storage & portability a breeze.
Beginners, convalescents, & seniors can benefit from this stationary electronic pedal exerciser.
Conclusion:
This tiny & light pedaling exerciser contains a built-in Display monitor, an adjustable resistance control knob, & aids to increase circulation.
Proactive Portable Pedal Exerciser, For Cardiovascular Workout
IMPACT-FREE WORKOUT: ProActive Digital Pedal Exercisers enable you to have an impact-free cardiovascular workout in the comfort of...
EASY TO USE: Tool-free setup. Features a built-in computer with LCD that measures time, revolutions (reps), reps/minute and...
LOWER AND UPPER BODY: Can be placed on the floor for leg exercise or on a table for upper body exercise.
DURABLE DESIGN: ProActive Pedal Exercisers are made of chrome plated steel and are compact, portable and easily stored under a bed...
2. Marcy Recumbent Cardio Exercise Bike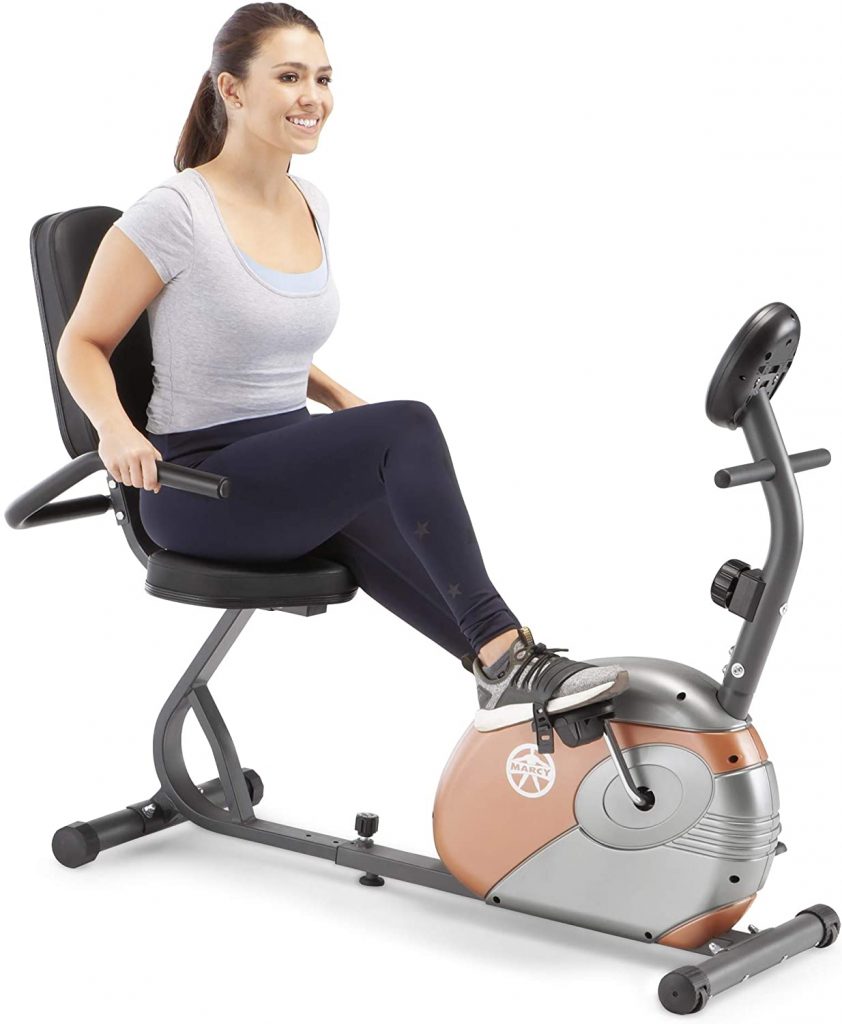 Specifications:
Brand- Marcy
Color- black, copper, grey
Height- 37.5 inches
Weight- 27kg
Material-plastic
Resistance mechanism- 8
Its step-through structure, made of a 14-gauge metal tube with such a powder-coated appearance, allows for optimum mobility while training for easy mounting & dismounting, accessible on the back & knees.
The magnetic resistance technology upon that stationary bike has eight levels of difficulty. The tension sliders determine the amount of challenge, simulating riding on various terrains & allowing you to tailor your exercise to your level of fitness!
Its ultra-functional Display computer monitor doubles as such an odometer & features a transparent panel screen with extra-large numerals for easy reading of duration, pace, mileage, & calories burnt.
Conclusion:
The equipment includes an ergonomically constructed saddle featuring elevated foam padding. It has curved foam-covered grips for other back & arm support while training, allowing you to maintain good form.
Marcy Recumbent Cardio Exercise Bike
STEP-THROUGH DESIGN – Featuring heavy-duty construction 14-gauge steel tubing with a powder coated finish, the step-through...
EIGHT RESISTANCE LEVELS – This stationary bike uses a magnetic resistance mechanism with 8 levels of resistance. The tension...
EASY-TO-READ COMPUTER SCREEN – The ultra-functional LCD computer screen acts as a odometer and has a sharp panel display that...
COMFORTABLE PADDED SEAT – The equipment has an ergonomically designed saddle furnished with comfortable high-density foam. It...
3. Bigtree Equipment For Workout
Specifications:
Battery-LR 44 battery-1
Manufacturer- BIG TREE
Twist movement tones thighs & buttocks while providing a rigorous aerobic workout; engage deep tissues in difficult-to-reach areas. The Mini Stepper would not harm your knees.
Stepper Machine is sturdy yet durable, secure & trustworthy, & has a long lifespan due to its heavy-duty metal frame.
The maximum weight equals 250 pounds.
The overall count, duration, calories consumed & repetition count are all displayed on the LCD screen. Stair Splitter enables you to comprehend your current exercise scenario.
Removable training bands provide the total-body exercise by working the arms, chests, spine, & shoulders.
Conclusion:
Stepper is now a fantastic concept that allows you to achieve your ideal figure without ever leaving your house. The Stepper is composed of non-slip material having embossment mainly on the surface, making it suitable for massaging your feet while exercising barefoot.
Bigtree Equipment For Workout
【Healthy Design】: Twist action helps you tone thighs and buttocks, while achieving a challenging cardiovascular workout; work...
【High Quality 】: Heavy-duty steel construction provides years of reliable use; Stepper Machine strong and durable, safe and...
【High-definition display 】: LCD display shows total count, time, calories burned, and rep count. Stair Stepper allowing you to...
【Durable Hydraulic Resistance 】: Removable exercise bands work arms, chest, back, and shoulders for total body workout.Stepper...
4. Deco Step Machine For Home Use
Specifications:
Battery- one AA battery required
Manufacturer- deco home
The Deco House Activity Step Machine Provides Effective & Fun Exercises Inside The Convenience Of Your Own Home, Even Without Heavy Bulk Of Heavy Machinery. Improve your health & fitness with this cardio exercise which also targets core & lower-body muscles, such as the glutes, knees, calf, and ankles.
Low, Impact Less Strain – The stepper machine's primary advantage has been the low-impact exercise with hydraulic-guided wheels. This gadget allows newbie exercise enthusiasts to gradually ease together into lifestyle change by simulating the significant impact of jogging with each sluggish step. The step device is also an excellent technique to have aerobic exercise if you have joint problems.
For Every Skill Level – This machine is great for warm-up well before extensive exercise, core work, or even a post-workout relaxation for even more skilled users. It was a space-saving option that's also simple to stow, making it ideal for your house, workplace, or dormitory.
Track The Progress – The step gadget is jam-packed with functions, no matter what your goal is. A convenient LCD (AA battery does not include) tracks & monitors your aerobic workouts, calories, & step count, with a bicycling mode to display all of the information. You can go as strong or as soft as you choose! For individuals new to stepping aerobics, handlebars aid with balance, & non-slip pedaling ensure a secure foothold.
Conclusion:
You could adjust the handlebars of each stepper device to accommodate different heights, allowing the machine to be operated by many individuals. Rubber footpads at the bottom of the device give stability for the entire unit while also preventing damage to your surfaces. Steel structure provides a robust feel & could support approximately 220 pounds.
Deco Step Machine For Home Use
A WORKOUT FOR ANYONE - The Deco Home Exercise Step Machine brings efficient and fun workouts to your home without the bulk of...
LOW IMPACT, REDUCED STRAIN - The biggest benefit of a stepper machine is its low-impact workout capability and hydraulic-guided...
FOR ANY SKILL LEVEL - For more advanced users, this machine is excellent for warming up before a big workout, as part of your...
TRACK YOUR PROGRESS - Whatever your purpose, this step machine is packed features. A handy LCD screen (AA battery not included)...
5. Sunny Health And Fitness Elliptical Machine
Specifications:
Item weight- 61 pounds
Weight capacity- 220 pounds
Manufacturer- sunny health
Height-15 inches
Width-18 inches
Length- 36 inches
From the convenience of your home, this Sunny Magnetic Elliptical Training offers reduced cardiovascular workouts. The design would provide you with a smooth top & low body exercise without disturbing your knees. For balance, this Sunny Elliptical has big, non-slip foot platforms & dynamically rotating arms that stimulate your entire leveling to develop your body. With the micro-tension sensor, this elliptical produces a seamless smooth action.
Resistance: Though a twisting of an exact micro-controller supplied with Eight stages of magnet resistance, users can easily alter the exercise intensity.
Digital Screen With Pulses: Use the computerized monitor to tracking your exercise progress, which shows your duration, pace, length, calories, & pulse.
Anti-slip Steering Wheel & Footpads: These anti-slip bars & footpads ensure a secure & sturdy workout.
Stabilizer: By leveling your elliptical cycle with the integrated stabilizers, you may achieve clean or even motion.
Conclusion:
The device is perfect for folks who want to get a great workout yet don't possess many areas to deal with it.
Sale
Sunny Health And Fitness Elliptical Machine
RESISTANCE: Easily adjust the intensity of your workout with the twist of the precise micro-controller equipped with 8 levels of...
DIGITAL MONITOR WITH PULSE: Follow along with your workout progress on the digital monitor that displays your time, speed,...
EASY SETUP: Avoid the hassle of overly complicated setups. This convenient elliptical cross trainer has been partially...
STABILIZER: Achieve smooth and even movement by leveling your elliptical bike with the onboard stabilizers.
Summery
Consult your physician before beginning any new fitness program to determine Why Is Cardiovascular Fitness Important and the best method to integrate cardiovascular activity within your daily routine. Your physician could not only assist you in developing a plan that progressively builds your ability for cardiovascular exercise. However, they could also help you formulate baselines for bp resting pulse rate and cholesterol, which will enable you to follow your progress.