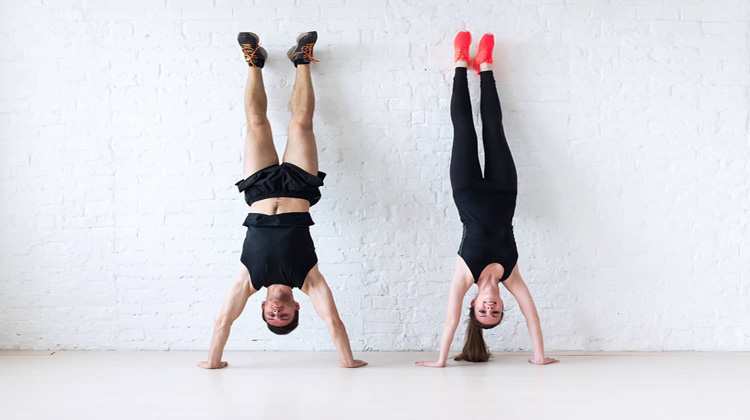 Handstands take a lot of work at first, and they can seem intimidating. However, the skill is just like riding a bike. If you learn it once, it is impossible to forget it. The movement needs a lot of core strength, as well as a robust upper body.
You get numerous benefits if you learn how to do it. The first thing is balance, which is essential since you are holding your entire body opposite of how you're used to. Next comes breathing, discipline, focus, and body awareness. Visit this link to read more https://www.megastar.co.uk/5-most-underrated-calisthenics-exercises.html.
You can't possibly be thinking of any problems you have at work when your entire world view is upside down. This makes you present at the moment, and if you make a small improvement every day, you're going to master it in a few weeks.
Walk-ups
This movement will make you feel comfortable looking at the world upside down. In the meantime, you will develop a lot of core and arm strength while simultaneously getting your shoulders and wrists ready for the more intense exercises.
The way you do it is quite easy. Place your back to a wall, and make sure there is nothing on both sides of you. This is important because if your arms get tired, you need a way out. Bend down and put your hands in front of you, just like you are about to pump out a few pushups.
Put the hands right below your shoulders and move your legs up on the wall. It should feel like you are walking in reverse. Make sure you tighten your core, or else your pelvis is going to be loose, and it will make everything harder.
Make a few steps upward and then kick off your legs on the side. Do this for a few days in a row, and you will master getting out of tight situations. In the meantime, go up for one more step every day. Soon enough, you are going to be completely vertical.
Every time you move your hands backward, make sure your fingers are spread out. Do not move the hands too wide, because that will create problems with your balance. The last thing you want is to injure yourself, so if you feel any pain, stop the movement, and take a break. If the pain is still there, take a day off, and try again when you feel better.
Handstand holds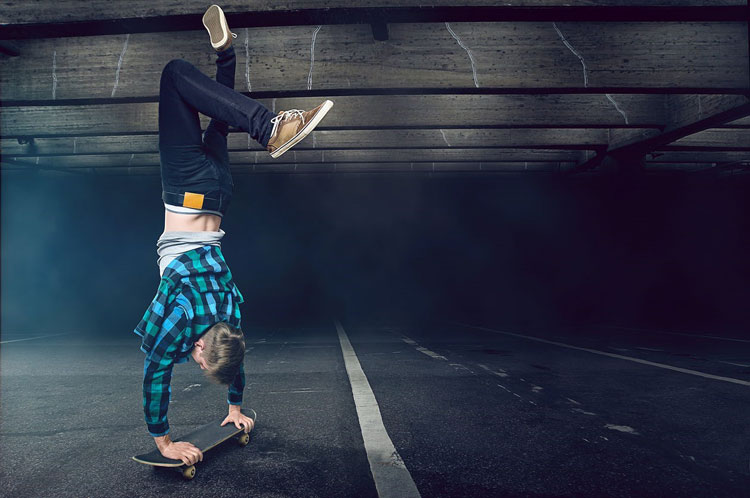 When you can be completely vertical, it is time to work on the core strength. You should be able to hold the position for a minute without feeling any pain. This will take a few weeks, so be patient. You can click here to read more. Try doing fifteen-second intervals at first.
Make a short break between each of them, and then a long pause when you get to a minute. Make sure that your elbows are always locked, and they form a straight line with your wrists, ears, pelvis, knees, and ankles.
When you get comfortable holding an entire minute, it is time to push away from the wall. Gently kick back with your feet, and then return. You should feel your core engaging every time you do it. If that feels easy, try holding yourself without any support, which will make it much harder.
A few helpful tips
Whenever you are doing a handstand, it is important to be focused and present at the moment. It is an incredibly difficult exercise, and mistakes easily lead to injuries. If you get injured, you will be less likely to want to do the exercise again.
Knowing how to bail out is essential. Whenever you try a new variation or a new movement, always think of a way to bail out before you do it. This will force your brain to do the split-second movement without you thinking about it.
When you know how to fall properly, all the fear of injury and mistakes goes away. Make sure all the walls near you are wide, and you can cartwheel out of them. Whenever you feel like your arms are going to give out, bailout.
That is much better than hitting your head on the ground. Finally, do not do headstands as a progression. The weight on your neck is too high, and you risk many more injuries than learning how to handstand properly.