Here you will find out all benefits of arm blaster and how to use it right. When you think of ripped biceps and a brawny upper body, who comes to your mind? For me, it's Arnold Schwarzenegger. Many people dream of achieving the muscles he had in the movies Terminator and Commando but cannot do so. Do you know why? This is because they do not use the tools that can help them target the right muscles.
Well, you don't have to waste your time searching and finding the secret to Arnold's chiseled biceps anymore. I have the answer for you right here; it's called Arm blaster.
Even though it is an old tool, it has proven very helpful and is now gaining popularity again. Arm blasters help you to isolate your biceps while keeping your hands in the correct position. It gives support to your elbows, and helps build well-defined muscles in no time.
In this article, you'll get to see the top five benefits of using arm blasters.These benefits will surely convince you to add this bicep blaster to your upper body workout routine.
WHAT IS AN ARM BLASTER?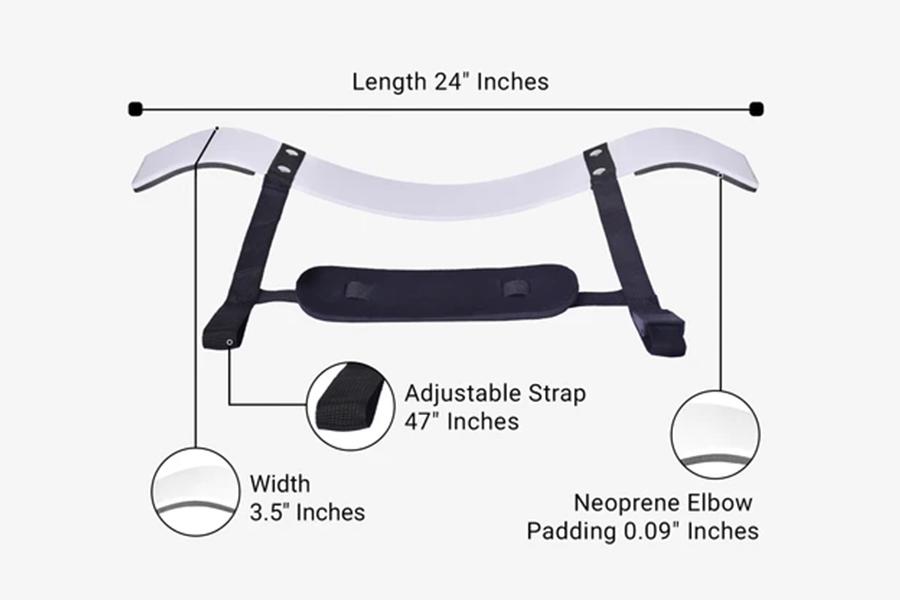 Arm blaster is a curved piece of aluminum that comes with an adjustable neck strap. It has neoprene paddings on the curves to provide utmost comfort for your elbows while exercising.
These bicep blasters allow you to lock your elbows in a fixed position and isolate the muscles. This isolation of the upper arm enables you to engage your biceps along with your core, and perform the curls the way it's meant to be.
This curved aluminum equipment is lightweight and easy to carry in your gym bags. It is 24 inches long and 3.5 inches wide, which can accommodate every size. It helps you lift heavy weights that target your muscles while maintaining your posture so that you don't end up getting hurt.
HOW DOES IT WORK?

Now that we know the secret to Arnold's muscles and what an arm blaster is, let's understand how it works.
The muscles eventually stop growing when you're working out on your biceps and following a set routine. These biceps are comparatively small muscles. They need you to perform the exercises properly and add variations and new techniques to keep growing.
Before getting into how it works, it is important to understand how to wear it properly. So you can target the right muscles and reap maximum benefits.
You need to make sure that your arm blaster is placed on your rib cage, just below your chest. This will allow you to breathe easily, and prevent you from straining your back, all the while keeping your arms locked in a fixed position.
To grow bigger and wider biceps, your goal should not be to only lift heavyweights. You need to make sure that when you're lifting weights, you are not moving your hands in the air and exerting all the pressure on your shoulders and wrists; rather, you have to lift enough weight that allows you to keep your focus on the biceps.
Once you are wearing the arm blaster properly and doing your bicep curls, the blaster will keep your arms in a locked position and allow you to focus solely on your biceps. Even if you're lifting lighter dumbbells or barbells, you will be working on your bicep area better than before.
BENEFITS OF ARM BLASTER
1. Prevents Cheating (Focusing Your Goal; Not the Weights)
When you work out on your upper body and lift heavy weights, it is very easy to lose focus on the main goal of building well-defined biceps and set your eyes on lifting the heaviest weights quickly.
This is the point where you start cheating on your exercise. Instead of focusing on your upper arm, you start using momentum to lift the heavy dumbbells. This results in you exerting all the pressure on your shoulders and wrists while lifting very heavy weights and not gaining any muscle mass.
Using arm blasters helps you avoid this deceiving act and keeps your elbows locked in one position. It enables you to focus on growing your biceps and avoiding the hand wavering action.
2. Range of Motion (Smoother Range of Motion)
The majority of the people feel that they are very strong and can lift heavy weights easily. Unfortunately, this is not true. People may lift heavy weights, but they'll surely lose their focus on the range of motion.
They will not be moving their arms and focusing on biceps; rather, they will be wavering their arms in the air. This will result in movement of the shoulder and wrist muscles and not the biceps.
If you want chiseled biceps, you need to make sure that you only move your biceps and not the full arm. This is made easy with a bicep blaster, which locks your elbows in a forward position. It provides a smooth range of motion while keeping the sole focus on building up the volume in your biceps and giving the pump you need to feel in your arms.
3. Mind Muscle Connection
Using an arm blaster prevents you from lifting weights that are too heavy for you. The fixed range of motion helps you to lift only the weights your biceps can bear lifting.
Apart from this, when you focus on your biceps, you will have a better mind and muscle connection. This is because your attention would be on the exercise you are doing and the muscles you can engage. Not on the grip or the amount of weight you are lifting.
Once you are able to focus better, you will be able to perform a more meaningful and effective workout, getting you closer to your goals.
4. Perfect for Garage Gyms ( Lightweight and Portable)
If you're one of the lifters who prefer to work out at home by themselves and enjoy their own company, then arm blasters are going to be your new favorite gym gear.
DMoose arm blaster is not just lightweight and portable but a perfect addition to your home gyms. Unlike a preacher curl station, you can carry it in your bag anywhere you want and it is easy on the pocket too.
Apart from this, preacher curl stations are too comfortable when working out. This results in the lifter losing the concentration required to perform perfect curls and keeping the muscles stable.
5. Core Activation ( Enhanced Core Engagement / A Diversified Gym Gear)
I am sure you didn't expect this heading to pop up in an article that is all about building biceps, but it's true. Arm blasters are not just working up your biceps and triceps; rather they are doing way more than you think.
This gym gear is worn on the chest, right at the top of your rib cage. When you place it properly on your body, arm blasters force you to keep your back straight i.e., improving your posture by keeping your backs straight.
Apart from managing the posture, when you are standing straight and lifting up weights, you are exerting pressure on your core as well and keeping it tightly pulled inwards. This act of sucking in the stomach activates your core muscles, enabling you to work your abs unconsciously.
EXERCISES YOU CAN DO USING ARM BLASTER
Since you're still reading this article, it means that you've been convinced to grab your arm blaster. That is why here are a few exercises that you can perform easily at your home or to feel the pump your biceps have longed for.
1. Bicep Curls
Start the exercise by standing straight with legs opened hip-width apart.
Hold the dumbbells in your hands while keeping the palms facing outwards.
Put your elbows in the arm blaster curves and relax your hands downwards.
Now engage your core and start curling both the arms upwards towards your face.
Slowly return both the arms back to their original position.
The arm blaster will allow you only to lift the weights your bicep can handle. This leads to isolating and targeting your biceps, leaving no space for any cheat curls.
2. Hammer Curls
Like the previous workout, this exercise can also be performed using either the dumbbells or the barbells. It will also help in building your biceps easily with the assistance of an arm blaster.
Wear your bicep blaster as mentioned earlier in the article, stand straight with your elbows relaxing on the elbow pads.
Suck in your stomach to maintain the correct posture and keep your core intact.
Keep your hands fully extended towards the ground with your palms facing the sides.
Slowly curl up your arms towards your face and then squeeze the arms for a second. Make sure the palms face each other.
Slowly release the arms back to their original position to complete your Hammer curls.
3. Reverse Bicep Curls
When using the Arm blaster for workouts, you get to focus solely on the bicep muscles. By adding these mini variations in your workouts, you can break through the plateaus.
For this exercise;
Hold the barbells from the top with your palms facing the floor.
Keep your elbows fixed in the elbow pads of the arm blaster.
Start off by slowly lifting the barbell towards your face.
Now roll it back to the original position, ensuring that the palms are facing downwards all along.
Takeaway
The arm blaster workouts effectively isolate your bicep muscles and focus on them to achieve your chiseled bicep dreams. The bicep blaster may seem uncomfortable initially, but you will get used to working out with it in no time.
Apart from this, the arm blaster also allows you to add a little challenge to your everyday workouts. It helps you break through the plateaus and grow bigger and wider muscles.
References:
Counts, Brittany R., et al. 'Muscle Growth: To Infinity and Beyond?' Muscle & Nerve, vol. 56, no. 6, 2017, pp. 1022–30. Wiley Online Library, https://doi.org/10.1002/mus.25696.