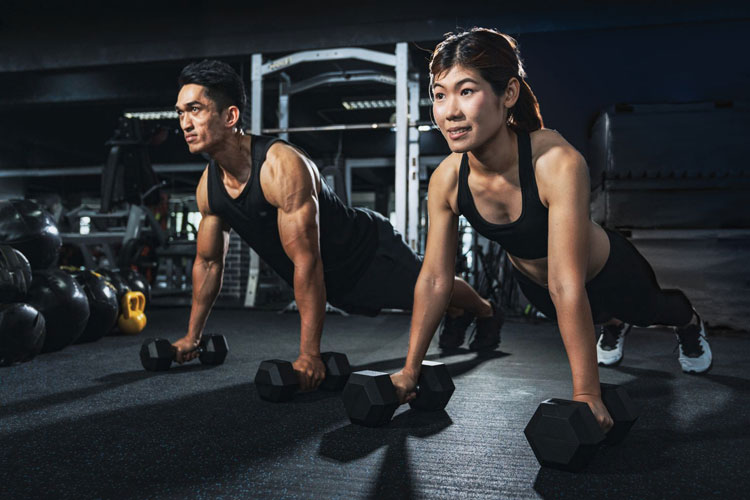 Visiting the gym regularly instills strength, health, and discipline, but it is not a very easy thing to do. The human brain is wired to find an easy path to achieving goals. As a result, many people need enough conviction/motivation to drive themselves to the gym.
If you want to stay healthy and in shape, setting up a gym at home is the way to go. It is more practical because you can exercise whenever you want. Since it is a private affair, you won't feel worried over potential critics. In the long run, a home gym is cheaper than paying monthly gym membership fees.
But what type of machine or equipment should you get? Which one would suit your health and fitness goals? If you are looking for the best home gym under $1000, read this article to the end because we've got you covered!
Types of Gym Machines for Home Use
Below are some gym machines you should get this year.
Weight Bench
This is the foundation for many exercises from rows and curls to bench press. You should choose one that is large and sturdy as you want an item that will support not just your weight but also the weight you are lifting. Some weight benches have attachments for leg curls but ensure that it is made of steel.
Additionally, you can invest in a bench that has a position for resting barbells. It should have an adjustable backrest because exercising in an inclined position ensures that various muscle groups feel the impact. It is also necessary for even conditioning and overall strengthening.
Plates and Barbells
If you want to lift weights, you should get a barbell of 45 pounds. It can hold heavyweights and is useful for progressive weightlifting. Since we are talking about affordability here, it won't be wise to get a small bar when starting. As you build up, you will discover that you wasted your money; hence the need for a 45-pound barbell.
If you cannot get the barbell immediately, you can buy a dumbbell. For the plates, ensure you buy a basic set that contains 2.5 to 45 pounds. You can start lifting them gradually until you are able to lift everything.
Choose the metal plates because the plastic types won't fit properly on the bars. You should also consider thinner, larger plates. They allow you to deadlift easily without utilizing the heaviest plates. This is because thinner plates are equal to the traditional 45 pounds weights.
Squat Rack
Are you thinking about getting stronger? Squats are an excellent exercise for inceasing strength. They train your lower body targting the quads, hamstrings, glutes, and core, making them a multi-faceted exercise. Properly strengthening the lower body makes your entier body stronger and can prevent low back and knee injuries.
That being said, to use heavier weight and move away from body-weight squats you'll need a 
quality squat rack
. You can pair your squat rack with your weight bench for bench presses that require heavier weights. Ensure the rack you buy is made of steel, has peg holes for rack height adjustment, and has thick bars.
Treadmill
This is a piece of old gym equipment that helps to increase daily steps even if you do not want to step out of your home. Walking on a treadmill for just 20 or 30 minutes every day is highly beneficial to the body. It helps your weight loss journey and improves your overall well-being.
Additionally, running on a treadmill improves your cardiovascular system and lungs. Most machines have speed and incline functions so you can run harder and faster and doing it consistently increases your endurance.
Basic treadmills have a few speed settings and keep track of distance but the high-end machines track heart rate, distance, and calories burned. They also have programs that adjust speed and incline continuously to mimic outdoor running distance. Some treadmill models have Wi-Fi features that allow you to compete with other people online.
Stair Climbers
This equipment is good for cardiovascular conditioning. It allows you to climb about 5 to 6 stairs per session. Generally, climbing stairs helps the cardiovascular system. Therefore, using stair climbers strengthens your cardiovascular output within a short period of exercise.
Lifting weights alongside a 5-minute session on stair climbers can burn off a significant amount of fat. By the time you are done, you will feel toasted, but in a better way. The amazing thing about this equipment is that it does not consume much space. So, even if your home is small, a stair climber can fit in nicely.
Resistance Band
A resistance band is good for a beginner who wants to strengthen muscles. It is also effective for increasing endurance and stretching. A low resistance band (between 2 to 5 pounds) is great for pre-workout stretching while heavier bands (25 pounds and above) can be used for powerful workouts.
The band is easy to use. Simply make a loop around your feet or attach it to a weight bench, then try out different exercises such as rows, triceps extensions, and bench presses. A resistance band is a versatile piece of equipment in a home gym and is great for yoga and Pilates too. It also assists people who require bands to work, so it is quite handy.
Dumbbells
Dumbbells are one of the first pieces of equipment everyone adds to their home gym. They open you up to a whole new world as you can use them for isolated endurance exercises such as bicep curls. You can also increase resistance by using them during lunges.
For beginners, it is good to start with a medium set (between 8 to 10 pounds). You can also get lighter weights for exercises like triceps extension that target small muscles. You may want to read this article to get tips for choosing the correct weights.
Conclusion
Keeping fit is beneficial and being able to work out at home is heavenly. Your home is your safe zone, so no one will mount undue pressure on you. While it speaks of convenience, some people may not have enough space at home to install gym machines. However, the pieces of equipment we listed in this article are multipurpose and do not take up excess floor space.