You might be a chocoholic if you frequently fantasize about chocolate-covered chocolate topped with chocolate icing and sprinkles. A chocolate lover's fantasy comes true with each of these Chocolate Shakeology smoothie recipes.
Best 5 Vegan Chocolate Shakeology Recipes Products
You are allowed to indulge in your preferred food group (chocolate is a food group, right?) each and every day. They get a rich chocolate flavor from Chocolate Shakeology (or Chocolate Plant-Based Vegan, if you choose!), and traditional combinations like our Peanut Butter Banana Split Shakeology taste just like some of your favorite sweets.
Peppermint Patty Shakeology
This Peppermint Patty Shakeology smoothie has the same flavor as the popular candy, but it also has other beneficial components like Shakeology! and 18 grams of protein to help you get through the day.
Red Velvet Chocolate Shakeology
Some of the same components initially used to create the delectable dessert are present in this healthier red velvet chocolate cake version.
You won't be able to taste the cooked beet in this Chocolate Whey Shakeology smoothie recipe, but it gives it a wonderful color. Mascarpone cheese adds a bit of cream cheese frosting flavor.
Chocolate Eggnog Shakeology
You'll want to drink Shakeology-based eggnog all year long because it's so delicious and lighter than traditional eggnog.
It has an unusual spicy flavor from the ground allspice. If you're out of allspice, nutmeg or cinnamon will work in its place.
WHAT CAN YOU MIX WITH SHAKEOLOGY?
Any ingredient can be added to your Shakeology. If you don't want to add any additional calories, you may alternatively combine it with just ice and cold water. However, if you choose to go this route, I would advise pairing it with 8 oz of unsweetened vanilla almond milk. Simply put, it gets creamier.
Spinach, coffee, soy milk, peanut butter, PB2, fruit, extracts, and spices like a teaspoon of cinnamon or pure vanilla extract are all acceptable additions to chocolate Shakeology.
Below, we'll include our top Shakeology recipes. We hope that this post encourages you to try a few new recipes this week because there are so many different ways to enjoy it!
HOW DO YOU MAKE SHAKEOLOGY THICKER?
We adore Shakeology because it can be made to taste somewhat different every time, which is another reason. It's wonderful to have a thin liquid occasionally so you can quickly drink it in one gulp and get on with your day. Other times, you can thicken it up to enjoy it more like a milkshake.
Less liquid in the shake and more of the other components thrown in are the simplest ways to thicken it. Finding the consistency you're after could involve a small learning curve at first, but after trying it out a few times, you'll have it down in no time.
Ultimate Chocolate Martini
For a luxurious experience, this virgin chocolate martini combines Chocolate Whey Shakeology with creamy avocado, cocoa powder, vanilla extract, maple syrup, and almond butter.
Shakeology Chocolate Vegan 30 Servings (bulk) in a BAG
Specification
Brand: Shakeology
Flavour: Chocolate
Item Form: Powder
Your daily serving of packed nutrients is Shakeology. It's the tastiest protein shake on the planet, loaded with superfoods. More than 70 super-nutritious ingredients make up Shakeology. Vitamins, minerals, and proteins can all assist in curbing cravings for food. To aid in detoxification and defend the body against free radical damage, consume phytonutrients and antioxidants. Adaptogen herbs might help you feel more energized and reduce stress. Digestive enzymes, fiber, prebiotics, and probiotics to help digestion and encourage regularity.
Conclusion
Not only will you be healthier, but you'll also feel better and be happier. You can: Lose weight, especially if you substitute Shakeology for a meal each day. Drink it in the morning to reap the benefits of reduced cravings for junk food throughout the day. Feel more energized and better about yourself. Boost your regularity and digestion. Money-back Promise By using Shakeology for the next 30 days, you can start the process of improving your health. You won't be charged if you don't feel better, more energized, and overall fantastic. Even if your bag is completely empty, call customer service within 30 days for a return of the purchase price, less shipping, and handling!
Shakeology Chocolate Vegan 30 Servings
Shakeology is a powerful Superfood formula designed to give your body the perfect combination of nutrients to help give you...
Shakeology contains over 70 healthy ingredients from around the world, including super-proteins, super-fruits, antioxidants,...
Rich and decadent, every bag of Chocolate Vegan Shakeology contains a 30 day supply.
100% vegan, soy-free, and dairy-free. Daily nutrition for your body with NO animal protein.
STRIVE – Vegan 12.6g Protein Shake | Creamy On-The-Go Plant-based Superfoods, Vanilla & Chocolate Almond
Specifications
Brand: STRIVE
Flavour: Trial Pack
India's first plant-based protein beverage for the on-the-go delivers 21% of the daily RDA in a convenient, delectable 200mL container. Designed by athletes, put to the test by health coaches, and developed by nutritionists. Love STRIVE Chilled. Packed with Superfoods, including Real Almonds, the "King of Superfoods," and Flax Oil, which naturally has Omega 3s and Vitamin E. It An excellent source of protein for a mid-afternoon snack, morning company, and pre-and post-workout sustenance.
Conclusion
The ideal protein beverage for vegans and anybody else looking to get healthier! Recovery is aided by the 1.9g BCAA, 98% digestibility, and somewhat rapid absorption. Free of refined sugar, cholesterol, colorants, artificial flavors, and preservatives. Shelf life at room temperature is 120 days.
PRO2FIT Vegan Plant protein powder with Pea protein Brown Rice and Mung Bean Protein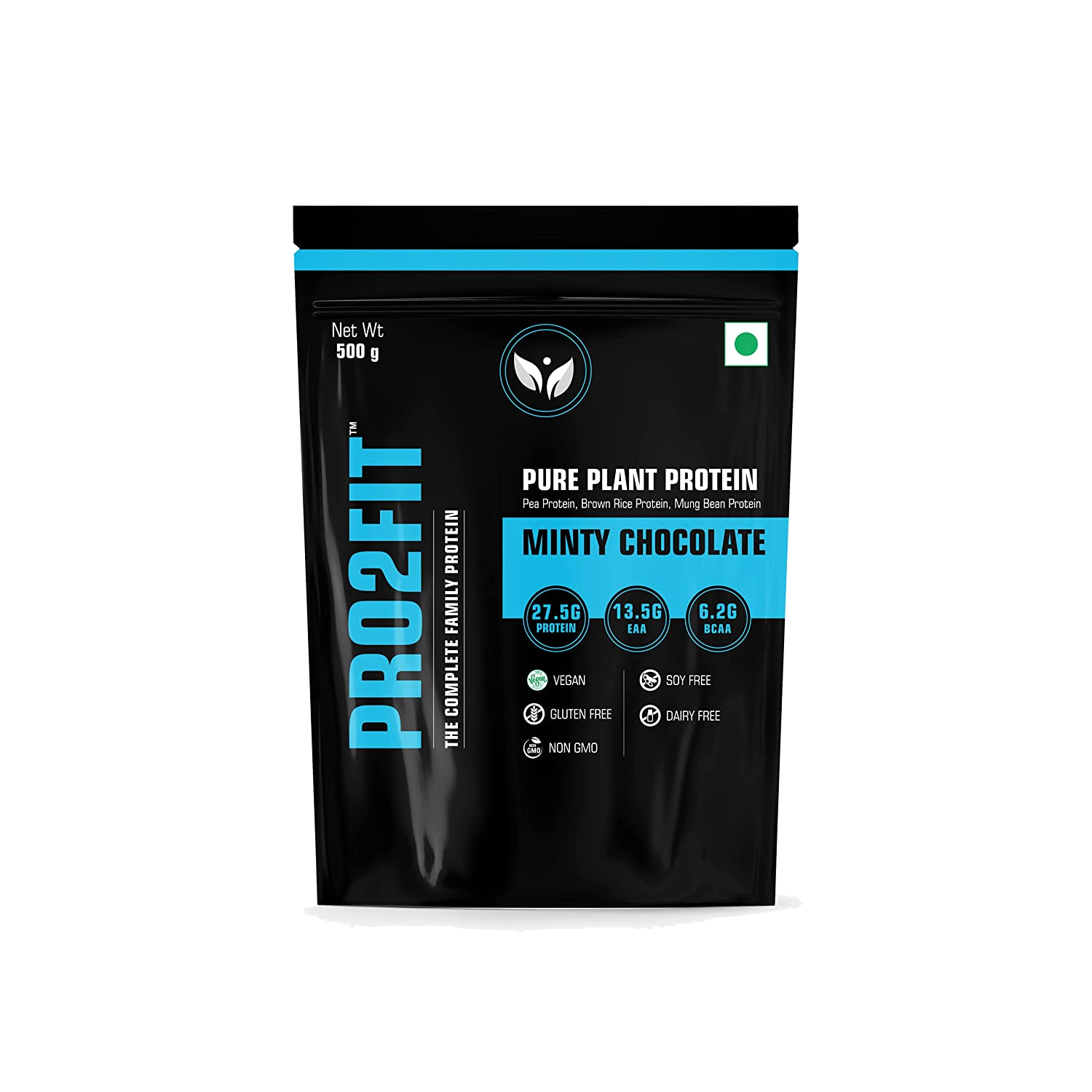 Specifications
Brand: PRO2FIT
Flavor: Minty Chocolate
The creation of PRO2FIT involves the utilization of pea protein isolate, brown rice protein isolate, and mung bean protein concentrate. In pea protein, methionine is present in comparatively tiny levels. We have made up for the loss by introducing protein from brown rice, which is high in methionine. Mung bean protein contains a lot of leucine, antioxidants, and iron. Combined, these plant proteins provide significant BCAA concentrations and all other necessary amino acids (EAA).
Conclusion
The flavor of the product is what you would anticipate from a plant-based protein, albeit not as delicious as whey casein and other animal proteins. While whey isolate takes no water to mix with eggs, this protein needs a lot of water to get soft. Therefore, I use it to make protein waffles.
WOW Life Science Plant Protein Powder – Chocolate Flavour– For a healthier lifestyle – 500g
Specifications
Brand: Life Science
Flavour : Chocolate
This plant-based protein powder is vegan. It includes every important amino acid the body cannot produce on its own. Each scoop of this powder has 25g of plant-based protein. WOW Life Science naturally seeks for the greatest ingredients possible to make its products and only provides the best to its clients.
Conclusion
Pea and brown rice protein, as well as extracts high in antioxidants, are among the natural sources of protein contained in the protein powder. This can become your go-to for enhancing muscle growth and general fitness when coupled with regular exercise and a wholesome diet. You already have everything you require to lead a healthy lifestyle. WOW Life Science only employs the greatest components in its goods since it only wants the best for its clients.
Kapiva Vegan Protein – Chocolate | 24.5g Protein per Scoop | Post-workout Recovery Protein Shake
Specifications
Brand: Kapiva
Flavor: Chocolate
Get a powerful 26.9g of good plant protein to help you stay fit. This protein powder achieves perfect harmony between nutrition and flavor thanks to the goodness of chicory roots and fine chocolate. The low-calorie lean protein contains 4.54g of glutamic acid, 5g of BCAA, and 26 vital vitamins and minerals. Its velvety texture, all-natural ingredients, and the superb chocolate flavor will satisfy your taste buds!
Conclusion
LEAN PROTEIN Forms: Rice protein and pea protein are the two premium sources of protein that make up this vegan protein for muscle wellness. This type of protein supports muscular health and toning while also supplying the body with vital nutrients. This plant-based protein's make-up provides your body with enough protein fuel.
Best 5 Vegan Chocolate Shakeology Recipes Products