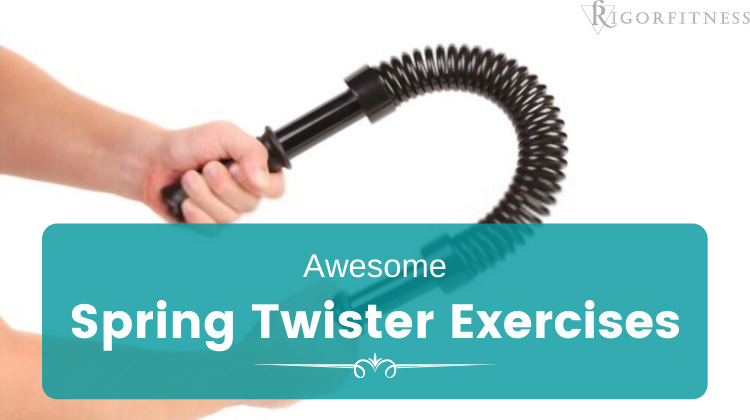 There are a lot of exercise equipment and devices we can use to help build our strength, with the spring twister being a pretty popular and effective one
What is a Spring Twister?
The spring twister is a 29-inch-long pole with molded handles on each end for a good grip, and a spring in the center, which is coiled stiffly for resistance when bending.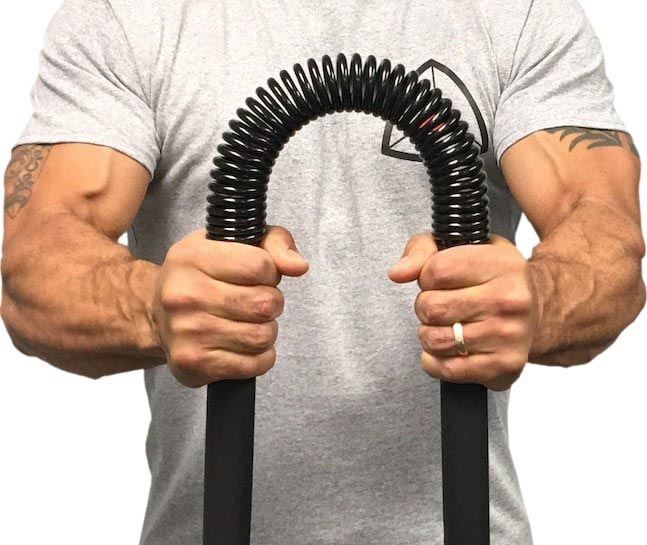 This is a resistance exercise tool, with some versions allowing you to adjust the tension for more of a challenge.
They usually weigh about 4 pounds and each of their springs has different degrees of tension, needing your force to bend the pole in the middle. There are high-end power twisters that can provide resistance of up to 100 kilograms or more! Typically, basic models have a resistance of about 40 kilograms.
The spring twister bars may be considered as a more "traditional" exercise tool, many bodybuilders and fitness enthusiasts use this for building their upper body strength. Think of it as a resistance band or grip trainer, but for the upper body.
 Why Use a Spring Twister?
You're probably wondering: What's so special about these exercise devices? Here are some of the benefits it has to offer:
 #1. It's Light and Portable
The best benefit of these spring twisters is the fact that they are light and portable. But even with its lightweight, you can get a heavy chest workout wherever you are (up to 100 kilograms!).
Because of its portability, you can easily store it at home without taking up too much space, making it an optimum gym device for those with small apartments. You can even bring it with you to the gym or when traveling, so no matter where you are, you can get a workout in. '
You won't have to worry about skipping workouts when you can do it anytime, anywhere. Place it in your bag and carry it around wherever you want!
#2. Safer to Use
 Another great benefit is that it's much safer to use compared to lifting and using heavier weights such as dumbbells. You won't have to lift heavy weights to place them in the proper position, as they weigh only 4 pounds.
There is less risk of injury when using these bars, but you still get similar strength training as you get a lot of resistance out of it.
You can perform reps as you would with the usual weights, and you can also use it for isometric workouts. As long as you match your workouts with leg days and healthy diets, then you can reach fitness goals and build even more muscle in your chest and back.
#3. Choosing the Right One
 But wait! Besides knowing about the benefits Spring Twister offers, you should also make sure you select the most suitable one for you. Here are some tips to help you out in that aspect:
There are two types of spring twisters you can invest in.
A regular spring twister exercise bar is a straight rod with handles on both ends, and you can choose between longer or shorter handles, with longer handles being better for increasing or decreasing the resistance level while you work out. You can get a wide grip for less resistance, while closer grips offer more of it.
There is an advanced version of the regular spring twister, which offers adjustable resistances. They are shaped like a V with a knob to manually tweak the tension. These are great for beginners to adjust the tension levels lower or higher as you progress, though a bit of a hassle to store because of their V shape.
Furthermore, your chosen twister bar should have safety straps, as well as handgrips that are slip-resistant. This will prevent any injuries or slips as you use the bar.
The bar should be made of solid and high-quality metal material that won't easily break, lasting for many workouts to come, so you get your money's worth. I recommend that you look into reputable brands that offer the best gym equipment at affordable prices according to your budget.
Spring Twister Bar Exercise List
Now that you know about how useful these exercise devices are, what can you do with them to help with your strength? This is a spring twister bar exercise list you can look into:
Chest and Biceps
To work on your chest and biceps, follow these steps:
Get your bar ready and hold it properly with both hands, holding it in front of you at your chest level. Stand with your feet shoulder-width apart for better support and stability.
Position your arms 90 degrees with elbows bent and forearms straight out, both in front of your body.
Start the exercise by bending the spring twister bar, bringing your hands close to you at the sternum level.
Increase the tension by flexing your elbows in and towards your body at the same time. You'll be able to feel contractions around your chest and biceps as you do this.
When you finish doing the exercise, return back to your starting position with about 5 seconds in so you have a better challenge.
Make sure that you bend the twister bar in an explosive motion, and that you come back to your starting position slowly and smoothly.
I recommend that you do this exercise for 2-3 sets with 10 reps per set. Increase your reps every week as you improve your strength.
Your Back
You can also train your back using a spring twister! Follow these steps:
Grab the bar with one hand, positioning it in front of you, level with your chest. Your elbows should be locked in place and your feet parallel to your shoulders. This form will help you prepare when pinching your shoulder blades, allowing the bar to come even closer to the body.
Bend your twister bar as you make your hands meet while you maintain its position at chest level. You will feel a lot of tension in your upper body. Hold the position for 2 seconds before you go back to your starting position.
When you go back to the starting position, take 4-5 seconds doing so, being slow and smooth. Keep your shoulder blades pinched as you do this.
Repeat the movement for 3 sets, with 8-10 sets per rep. Add 1 rep every week.
Overhand Bend Exercise
This is another arm exercise you can follow:
Grip the handles of your spring twister with your elbows bent 90 degrees and arms lifted out to the sides until they are leveled with your shoulders. The bar should be in front of your shoulders and your palms facing the floor.
Exhale and bend your spring twister, creating an upside-down U-shape. Lower your hands and squeeze them together, with your hands meeting in front of your waist.
Inhale, then control your hands back out slowly until the twister is straight. Repeat for another 8-10 reps per set, for 2-3 sets.
Extra Tips
Besides the exercises I mentioned above, follow these tips when using the spring twister as well:
Tips 1: Make sure you warm up your arms and shoulders before strength training. You can do so by jumping rope or jogging for five minutes, then doing 20 reps each of arm circles and bear hugs.
Tips 2: Don't overdo your exercises. Start off with 2-3 sets of 8-10 reps per set, using the tension you are comfortable with at first. Gradually increase the reps and tension, don't go at your hardest when you just began exercising. This may increase the risk of injuries and extreme fatigue.
Tips 3: Remember to breathe as you perform the exercises, inhaling and exhaling slowly to help with your form and strength. Be sure to grip it tightly, but not to the point it's uncomfortable.
Tips 4: I recommend that you incorporate these exercises towards the end of your upper body workouts so your chest and arms won't feel fatigued as you perform other exercises.
Do you want to learn more about how to exercise using spring twisters? Here's an informative video to show you more:
Wrapping It Up
Portable fitness equipment like spring twisters is very useful, whether you use them at home or bring it with you to the gym and future travels. As long as you know what kind of exercises to do, you can reap the benefits these gym devices offer and improve your upper body strength.
I hope that my article on the spring twister helped you learn all about the wonders of this helpful exercise device and how to use it! If you don't own one yet, invest in one and begin your muscle-strengthening journey now.
For those who have questions or want to share their experiences using a spring twister, share them in the comments section below. I appreciate all your thoughts and insights. Good luck and stay healthy!