Deciding to go to the gym is one of the most important decisions you can make in life. As dramatic as it may sound, yes, it can really change how you live. Going to the gym is more than just trying out those fancy equipment, losing large pounds and sweating out all day.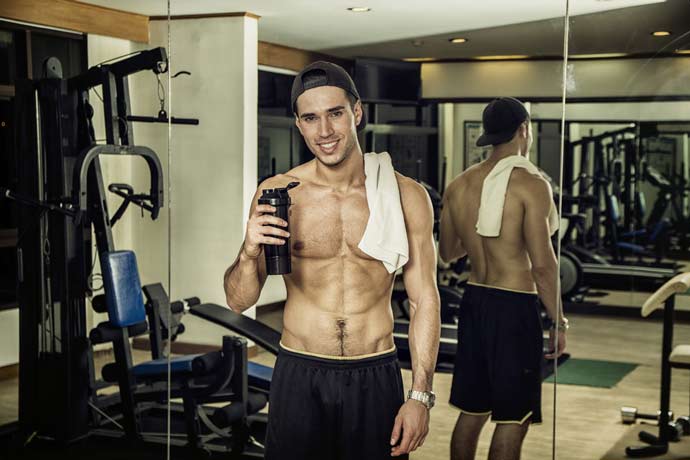 Going to the gym means deciding to give yourself a new life, a better way to live and be an inspiration for others. But just like any big decision, going to the gym must come with enough preparation and knowledge to ensure that everything would go smoothly. These are reminders to keep in mind when you're a beginner in the world of the gym.
SAFETY FIRST: USE PROTECTIVE GEARS
Injuries do come in workouts, but you don't have to be too afraid because you can always protect yourself from it. Before heading out to the gym, make sure to purchase lifting gloves, hand grips, leather gym gloves, knee braces, knee compression sleeve, kneepad, weightlifting belts, and other essential protective gear.
We know how much you are excited about going to the gym, but remember to prioritize your safety first. Think about it, what's the use of aiming for a healthy body, if you are just going to be injured, right?
DO NOT SKIP YOUR WARM-UPS
In their haste to lose weight and buff up their body, first-time gym-goers tend to skip essential things that would bring them closer to their goals — warm-ups
But why are warm-ups so essential? Because it increases your heart rate and circulation that will then lose your joints and increase your blood flow in the muscle. It conditions your body for heavy activities, so it could perform more without having any negative impact.
With this, it's not hard to imagine what can happen to your body if you attempt to do a heavy workout without having a proper warm-up.
DO NOT BE TEMPTED TO DO EXCESSIVE WORKOUTS
Most first-time gym-goers share a common mistake: they take excessive workouts and training to speed up the process of what they're aiming for. Whether buffing up their body or losing weight, they 'disrespect' proper process by doing workout excessively. What they are doing is also a disrespect for their bodies. 
What you need to learn from this is working out in a gym is a process, and it takes time. That is why you need to have your personal gym trainer to guide you properly with each step that you need to undergo. With this, you'll have a disciplined workout that will keep you on track in achieving your personal gym goal. 
LEARN KEY GYM TERMINOLOGIES
Here are some of the essential gym terminologies you need to know: 'Active Recovery' This can be done during your 'rest day' from the gym. During these rest days, you can rest, of course, but you are encouraged to do low-intensity workouts like walking and yoga. 
'Compound Exercises'
This term refers to exercises like squats, lunges, and deadlifts that target multiple muscle groups. 'Cool Down' It is the process of bringing your body back to its original state, calming your nervous system, and lowering your heart rate. 'Cross-training'  It's a combination of various training and workouts instead of doing only one type of workout. 'Circuit' It is composed of various exercises that require you to move from one exercise to another with only short rests in between.
PROTECT YOURSELF FROM GERMS
Since the gym is a shared space, all sorts of people are sharing the facility, the equipment and of course, its bathroom. Protect yourself from harmful elements by always bringing your sanitary kit. Be sure to wipe the handles of the gym equipment you're using to ensure that germs wouldn't be transferred to you.
DON'T LEAVE YOUR SWEAT ON THE GYM EQUIPMENT
As a courtesy to the next user, wipe the equipment after using it with a disinfectant, to serve as an example for other gym-goers. By showing that you care enough for their hygiene that you need to wipe the equipment after using it, shows respect for the other users.
PREPARE YOUR MUSIC PLAYLIST
It's nice to have your music playlist ready specially made for your workout routines. It can provide you with much inspiration and enthusiasm as you start exercising. It will help you focus more on what you are doing and cancel all the distractions that you might find inside the gym. The magic of music works everywhere, including inside the gym.
LOCKERS IN THE GYM ARE THERE FOR A PURPOSE
Lockers are placed at a specific part of the gym to keep the whole facility organized.
If you put your gym bag beside you, it will be very hard for other gym-goers to navigate the gym-facility
and NEVER BLOCK YOUR CO GYM-GOERS' VIEW OF THE MIRROR
Always remember that you don't own the gym, so always be considerate with your fellow gym-goers. It would be very impolite to block someone's view of the mirror-like as if there were no other people in the gym but you. 
DO NOT DROP THE DUMBBELLS
If you're starting to use dumbbells, it might look cool to drop it on the floor after using it. The heavy bang of metal sounds so cool and manly — and it sucks for other gym-goers, especially for the owner. It actually shows disrespect and arrogance, and to think that you're a first-timer, you might quickly gain a bad reputation early in the gym.
DO NOT USE A PIECE OF EQUIPMENT FOR TOO LONG
Be mindful of other gym-goers when using a particular piece of equipment because they want to use it, too. If you want to use it for a longer time, you may go to the gym as early as it opens, when the number of gym-goers is still low.
AVOID LOUD CHITCHATS  
Remember that people who go to the gym like to focus on their specific goals. They are not there not to listen to your loud chit chat. Nobody's banning chitchats inside the gyms, but remember to make it as silent as possible to avoid other gym-goers from being distracted.