The increase in popularity of spin bikes in the world of fitness is inevitable. Spin bikes also called stationary and indoor cycling bikes, have gained immense popularity in the last few years. The bikes provide high-intensity, low-impact physical exercise, suitable for individuals of every fitness level, and may be incorporated into any workout category.
Whether a beginner or a seasoned cyclist, spin bikes may help you with a practical and challenging workout. However, with multiple available options, trying out and finding the best spin bike for your requirement may take time and effort.
Finding the best spin bike
When picking the spin bike for your requirement, you need to determine your budget with the goal you want to achieve. It would help if you were clear about your long-term plan when you are out there to find the best spin bike for your goals and requirements. Remember that there are a few considerations and tips available from experts, but the final decision is yours. There are a few fundamental factors to bring under consideration that are listed below:
The budget: The first and most important point to bring under discussion is the budget. Every individual has a budget, and that may be the case with you. Spin bikes range in terms of price. So, it is fundamental to determine the amount you are willing to spend on this.
The weight and size: Let's come to the second point, the bike's weight and size, both of these matter. It is a significant consideration that you cannot overlook. If the bike is small, it may be challenging, making it uncomfortable. On the other hand, if you are investing your money in a too-large motorcycle, then it will also not add to your comfort. 
It is thus necessary to ensure that you get a bike appropriate for your height and weight. It would help if you quickly reached the pedals and handlebars.
Don't forget the comfort.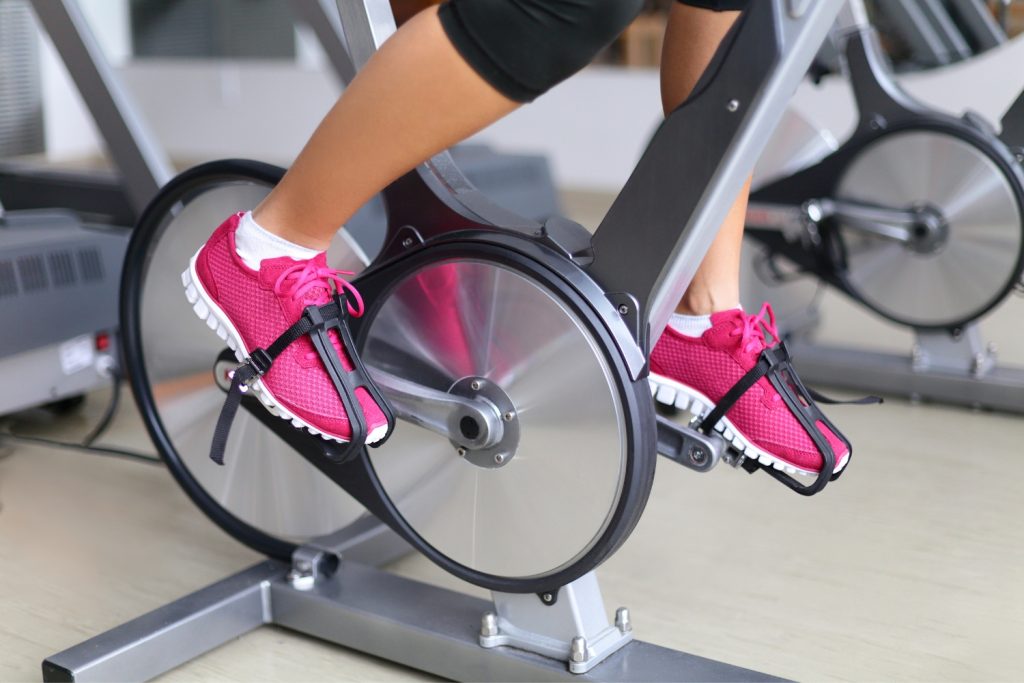 The discussion on spin bikes is complete with the comfort factor. One of the most vital and weighted factors is the comfort you can derive from the spin bike. The cycle is not only for your physical activity but for your convenience as well. If it is difficult to store and transport, you should not spend your money on it. 
Along with this, it is fundamental to discover a spin bike that is of decent size. You may wonder, Magnetic vs Friction: Which Spin Bike Resistance is Best for You? There needs to be a clear-cut answer, as it requires good research.
The adjustability factor matters too.
Adjustability is a fundamental feature that you must pay attention to. Adjustability matters and one of the advantages of the spin bike is that it comes with customized features. Always go for high-quality spin bikes with vital components so you can achieve fitness goals. Adjusting the handlebar position, seat height, and resistance level will help you with better effect and comfort.
Benefits of spin bikes
Spin bikes are the ideal option for people of all ages. It helps in burning calories and improving your cardiovascular health. The high-intensity workouts provide a great fat-burning effect, which makes it ideal for individuals who want to lose weight quickly. Apart from that, spin bike exercises help improve strength and tone muscles as well. Full body workouts can be achieved with spin bikes as you'll be focusing on your upper and lower body.
Spin bike workouts are time-efficient, and you can save time while working out.
You can do intense exercises without putting too much stress on your joints.
The resistance control options make it easy to customize the intensity of the workout according to your needs.
Users have reported an increase in aerobic fitness.
It helps you prepare for outdoor cycling as well.
Spin bike exercises are considered a low-impact workout and make it easy to target specific muscles in the body.
Also, spin bikes help reduce stress levels with regular workouts.
What are you waiting for? Go ahead and place the order today.
Frequently asked questions about spin bikes
What type of spin bike should I buy?
Answer: It depends on your fitness goals and needs. Consider the factors mentioned above to help you make an informed decision.
How much does a good spin bike cost?
Answer: The cost of a spin bike can range from affordable to quite expensive. It is essential to consider your budget and requirements before making a decision.
Does a spin bike require maintenance?
Answer: Yes, it is important to perform maintenance on your spin bike regularly to ensure long-lasting performance. This should include checking the tires, brakes, resistance system and cables for any signs of wear and tear.
What is the best spin bike for home use?
Answer: The best spin bike for home use depends on your budget, goals, and needs. Consider factors such as size, weight, adjustability features and resistance systems when making your selection.
Do I need to wear special shoes when using a spin bike?
Answer: Yes, it is recommended to wear special cycling shoes to get the most out of your spin bike session. These shoes provide more stability and comfort when pedaling.​ No matter what you're looking for, it's essential to select the right spin bike for you. With these considerations in mind, you can make an informed decision and enjoy the benefits of a spin bike for years to come.​
Conclusion
In conclusion, spin bikes can be an excellent option for those looking to stay fit and healthy. When selecting the right spin bike, consider factors such as budget, weight and size, comfort and adjustability features. Additionally, make sure you perform regular maintenance on your spin bike to maintain its performance. With this advice in mind, you can find the perfect spin bike for your needs and start achieving your fitness goals.​ Happy spinning!