Trying to find out which heavy bag is going to work best for you can be a difficult task.
To add to this challenge, you don't have just one model to pick from but instead of you hundreds of different brands and models of punching bags.
However, I have found that you can simplify this decision by narrowing your options very quickly.
To do that, you should figure out whether you want a free standing heavy bag or a traditional hanging bag. You know, one you hang from a punching bag stand.
While they'll serve the same purpose, I have discovered that each type offers pros and cons. Within this guide, you're going to find out more about these products so you can determine which one is right for you.
Standing Bags Vs Hanging Heavy Bags
 You'll find that standing bags offer unique benefits you won't get from hanging bags. However, hanging bags offer other benefits.
This can make it difficult to know which type will serve you best. Below, you'll learn more about the pros associated with standing bags.
Standing Bags 
First and foremost, you should learn more about standing bags. This type of heavy bag will feature a base that remains on the ground at all times.
It is pertinent to fill the base with something heavy such as water or sand. When you use enough, the stand will not move around.
You'll be able to hit the bag with full force without the stand wobbling.
However, it is vital to understand that standing bags will be much more likely to move than hanging bags.
Still, standing bags offer numerous benefits. With a standing bag, the stand and bag will take up less space.
This makes standing heavy bags good options for consumers living in small apartments, condos, or small homes.
By choosing a standing bag, you don't have to worry about changing your property to accommodate the bag.
You don't need to use an overhead joist or anything like that. Instead, the base is still with water or sand and it supports the bag at all times.
Benefits Of Standing Bags
 At the end of the day, I think a lot of people will like standing heavy bags. Free-standing heavy bags offer numerous benefits that cannot be found elsewhere.
For instance, you can use a heavy standing bag anywhere. It can be used in a small apartment, condo, garage, or shack.
Below, you'll find a list of the pros of owning free standing punching bags.
You'll be able to develop your punching, kicking, and knee strikes
A standing bag allows you to improve your footwork and reflexes
There is no need to change your property
Free-standing bags can be moved easier
May use a spring-loaded design for added stability
Takes us less space
Cons Of Standing Bags
 A lot of people will love free-standing heavy bags. However, you may find that a hanging bag is best for you.
It is important to understand that free-standing bags have a few cons. You'll want to learn more about these cons before deciding.
For instance, these bags will need water or sand. This increases the overall cost.
In general, a 50-pound bag of play sand will cost $3 to $5. While this won't be a deal-breaker, it is something to consider.
If you're working on a limited budget, this extra expense might be difficult to cover.
Additional cons of free standing bags can be found below.
Free standing bags need sand or water
They move around
They could scratch your floor
The sand or water could create a mess
What Are Standing Bags For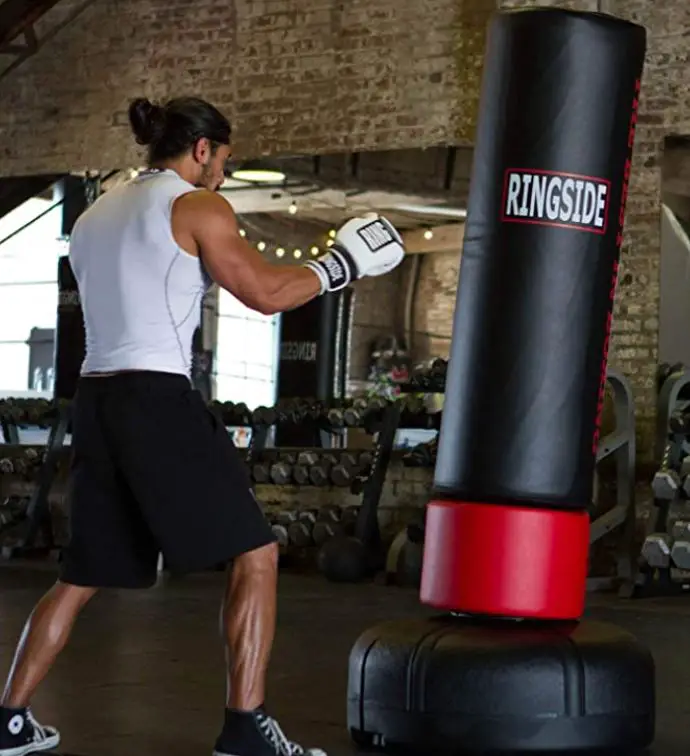 A lot of people will benefit from purchasing a standing bag instead of a hanging bag. In fact, standing bags will be the best choice for 90% of people.
This is the case because standing bags are more convenient. While you'll need sand or water, you won't need to install a bracket on your wood joist.
In addition to this, you don't need to worry about damaging your wood or making your landlord angry.
Plus, you'll be able to use a standing bag for numerous purposes. You can punch it, kick it, knee it, and elbow it.
The possibilities are endless. Standing bags are great for most athletes.
They can be used by boxers, martial artists, kickboxers, and people who want to lose weight.
Hanging Bags
 Hanging bags will be the better choice for some but they have a few cons. With a handing bag, you'll need something to support the bag's weight.
A hanging bag can be hung from wood or a heavy bag stand. If you intend to buy a hanging bag and stand, you'll end up paying more.
With that being said, this is not the best choice for people working with a limited budget.
Still, hanging bags allow the user to move around the bag while landing a combination of punches, kicks, and knees.
Benefits Of Hanging Bags
 Hanging bags offer a few key benefits that set them apart from free-standing bags. These bags will swing when punched so they may be better for practicing your reflexes and eye-hand coordination.
When you use a hanging bag, you never have to worry about it tipping over.
Even if you use a heavy bag stand, you can rest assured knowing that the bag will remain upright at all times.
Plus, hanging heavy bags are better for kickboxers because they can withstand kicks much better.
No worry about the bag tipping over
Won't damage your floors
Cheaper when hung from a wood beam
Can withstand powerful blows better
Great for all types of strikes
Cons Of Hanging Bags
 You'll love hitting a hanging bag. You know that the bag is going to be ready to hit again because it isn't going anywhere.
The only problem is that a lot of people will not be able to use hanging bags in their homes.
Sadly, it is harder to find a place to install a hanging bag unless you decide to purchase a heavy bag stand.
With hanging bags, you'll need a wood beam to support the bracket and heavy bag. This means people living in apartments, condos, and other rented dwellings likely won't be able to use these bags.
Likely not suitable for renters
It can be difficult to find a wood beam that can support the weight
Installation will be harder
May need more space
You might need someone to hold the bag to offset the swinging movement
What Are Heavy Bags For?
 At the end of the day, heavy bags and free-standing bags can be used for the same purposes. They're designed to help athletes perfect their striking abilities.
Whether you pick a hanging bag or standing bag, you'll easily be able to use it to practice your kicks, punching, knees, elbows, and more.
Just remember that hanging heavy bags are usually better for kicks because they can accept more punishment.
Which Bag Is Best?
 Finally, you should determine which bag is best for you. Should you purchase a standing bag or a hanging bag?
Ultimately, this will depend on numerous factors. If you live in a rented dwelling, you won't be able to use a hanging bag.
Your landlord won't permit it so you'll have to stick with a standing bag.
Most people will find that the standing bag is the best option because it is more convenient and suitable for smaller buildings as well as rented dwellings.
Still, hanging bags offer some benefits since they can take more abuse and will never tip over.
If you have room for a hanging bag, you may want to add one to your home. Otherwise, a standing bag will do the trick.