There has been great change in the way we live our lives over the past year. The ongoing covid-19 pandemic has affected not only our ability to work, but for many of us lockdowns and restrictions on movement have led to us being unable to enjoy many of our regular daily routines.
For example, going for a workout at the gym has become impossible in a wide variety of locations as gyms have been forced to close and non-essential travel has been restricted. This has had a great impact on the many millions of people who enjoy using a gym. Indeed, memberships have been cancelled in large numbers as the uncertainty of when gyms would be opening again took hold.
The result has been a rise in demand for home gym equipment. Unable to go to the gym, people have been bringing the gym to them. One plus point is that many homes now have a gym whereas they may never have done so without the unusual situation. Following we look at why you might consider a home gym, and the equipment you should include to make it as versatile as possible.
Why a Home Gym?
There are many reasons why you may wish to instal a home gym. The most obvious right now is that commercial gyms are mostly shut, but even beyond the current situation there are advantages to having a gym in the home. Think of this: how much does your gym membership fees and annual gym membership cost? And how often do you use it? How far do you travel to and from the gym? That entails a cost, too, and when you add it up there's a lot of money involved.
Then there are the days when you want to go to the gym but you're too tired after a hard day's work, or you have a family engagement, or you're needed elsewhere. So you don't get the maximum value from your gym membership. You're not alone, as many gym memberships are underused or forgotten every year.
If you had a gym in the home, you would be inclined to use it more often. It's there for you all the time so you're not restricted as to when you can use it. You don't have to travel to and from so there's no expense or time wasted. Plus, you save on a gym membership and have only the payment for the equipment. Then there's the benefit for all in the household who can also use the equipment.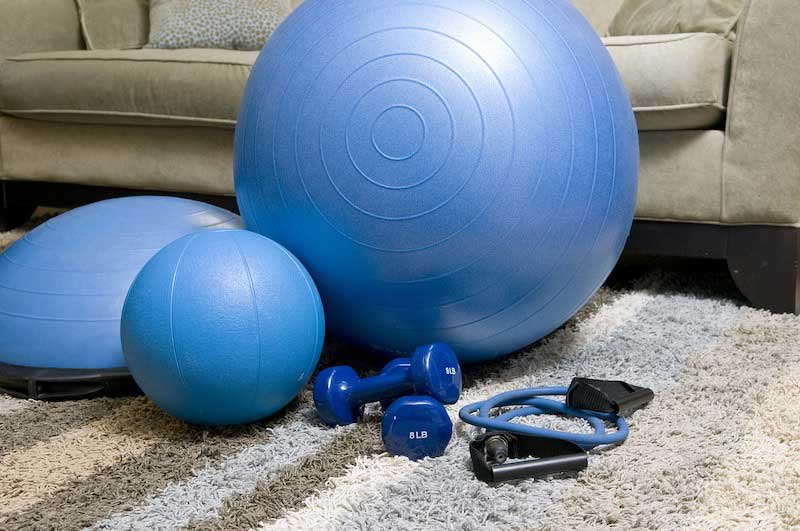 So, your problem now is this: where do you put a home gym, and where do you get the equipment? We recommend you use a reputable retailer such as Fitness Training Star for advice on equipment and consider an unused space such as a spare room or garage as your gym. Remember to check there is enough room for movement. Now let's have a look at what equipment you need for your home gym.
What to Include in Your Home Gym
Before we get into the details of the equipment you need, we recommend this recent study about the effects of covid-19 on exercising. It goes some way to explaining why a home gym can benefit all the family or household and shows what a serious effect the pandemic has had on people's general health.
So, what sort of gym are you looking to create. Let's not get too technical with the details and assume that you want one that would be perhaps an 'intermediate' level gym that doesn't cost the earth. Here are the very basics to begin your gym:
Mat: necessary to give you some comfort on what may be a hard floor for when you're doing essential sitting and lying exercises, a mat is the first item to look for.
Resistance band: a long loop resistance band is another essential gym item that allows you to perform a variety of pulling and stretching exercises which make up the basics of many a workout.
A step or bench: for those leg exercises that keep you in good trim while you can't get out and about as much as you would like, a step is an essential purchase for every home gym.
Skipping rope: needs no introduction, the skipping rope is a staple of any gym and a versatile and surprisingly important piece of kit.
That's the four basic items of exercise equipment that should form the basis of your home gym set up. Now let's look at some more technical items.
Intermediate Gym Equipment
For many an expert the one item of equipment they would make sure they have in a home gym is a kettlebell. This is one of the most versatile and useful of all items of equipment used in gyms in the home, as well as in a commercial gym setting. We recommend investing in two different weights to vary your training and you will find this item extremely useful.
You should also invest in power blocks, which are in fact dumbbells that are adjustable. These are far more usable than traditional dumbbells and make life a lot easier. Essential weight training equipment for a gym for that purpose, they are also surprisingly affordable.
Other equipment you may want to invest in could include a static bicycle – a favourite with many and great for if you usually ride but currently cannot – and a rowing machine. We also suggest you look at portable pull up bars that attach to a doorway for convenience.
Build Your Gym
We hope that this article has helped you get an idea of how easy it is to build a home gym that is usable and cost-effective. Households are investing in gym equipment as they need to keep fit in times when it is hard to exercise in the usual places, so we recommend you have a closer look at the suggestions we have made and talk to a gym equipment supplier about the ideal equipment for your budget.