It is so easy to get lost in choosing the best protein shaker. With the numerous options that are available in the market now, most of us would easily fall for one of those branded plastic shaker cups or that dreadful freebie your gullible fellow might be toting around with after a strenuous workout. I should know this feeling as I have paraded one of those shakers only to see clumps of protein lurking inside.
To help you choose the right protein shaker for your post work-out rituals, I will guide you through first on what a protein shaker is along with the essential qualities your accessory should have. We will also be covering the different types and basic steps on how to use a protein shaker bottle. And later on, I'd be revealing my streamlined list of the best protein shakers in town at the moment.
What Is A Protein Shaker
For those who are still uninitiated and consider this as their first time to search for a protein shaker, you are in a luck! Consider this as your ultimate guide in choosing the best protein shaker even if you're just a noob.
A protein shaker is a bottle or container that measures and mixes protein shake powder with water, milk and other liquids that are available. It is mostly used in the gym after, evidently. But protein shakers can now be spotted at work or even if you are just feeling like having one on the go.
A protein shaker often consists of a sip top lid that aids the users to drink liquid without ever spilling it. As these bottles are designed to transform the shake mix into liquid, there are just those shakers that don't fit the bill, leaving clumps in your drink which I truly find unappetizing.
How Do You Use A Protein Shaker?
Before heading for these simple steps, it is a must that your protein shaker includes the essentials. These include the cup or the bottle with a tight-sealing lid, the mixer and the protein powder.
1. Pour The Desired Liquid Into The Bottle
Your protein shakers should have its measurement marks on its side. It should be noted that the liquid should be added first before the powder to keep it from clumping on the shaker's bottom.
2. Measure The Protein Powder
All the packaged protein powder comes with a scoop and if you couldn't find it, rummage through the bottom of the container. Meanwhile, if you have protein powder in bulk, please use 2 tablespoons.
3. You Can Now Add Other Ingredients
Your protein shaker is known to offer a convenient way to take powdered nutritional supplements. It is advised that you should talk first with your doctors to determine these added supplements and their respective doses.
4. Attach The Lid On The Bottle
Ensure that it snaps in place before heading for that inescapable act of shaking! Shake the bottle up and down vigorously enough to for a slow count of 20. The mixer should be able to break up the protein powder and aid the other supplements to mixing them altogether.
---
Types Of Protein Shaker Bottles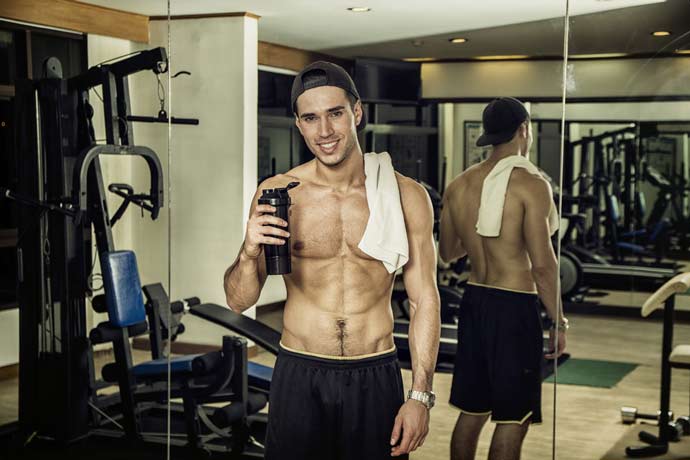 1. The Plain Bottles
These are usually made from plastic or aluminum that has a top with a separate opening for you to sip on. They may or may not have measurements marked on its side.
2. The Mesh Screen
This is very much akin to a plain bottle protein shaker. It has a "mesh screen" included inside whose function is to dissolve the protein powder.
3. The Ball Whisk
Like a plain bottle protein shaker, the ball whisk type has a wire ball whisk on its bottom that assists in dissolving the protein powder.
---
Qualities Of A Good Protein Shaker
1. A Tight Lid Or Seal
Any sane protein shaker user just don't want any of its bottle liquid to mix with their gym clothes or worse, their prized laptops!
2. A Good Mixer
Your chosen protein shaker should have a mixing ball included or other mixing device to ensure that powder doesn't produce unappealing clumps in both your drink and inside the container.
3. Sturdiness
Your protein shaker should be able to handle being tossed in and out of your gym bag numerously. It should also withstand the times when it gets kicked or dropped (which it would very soon!). Guys, stay away from cheap plastic protein shakers unless you'd like smelling your bag with a tired vanilla powder hours after!
4. Easy To Carry
Similar to a plastic bottle's tendency to become less sturdy, this type of bottle can also be a headache as it is both round and difficult to get a proper handle on. As such, a good protein shaker should have that snappy grip. Also, I would recommend containers with handles in them so you could attach them anywhere including your gym bag or you could just carry it when you're on the go.
The Top 5 Protein Shakers In 2017
*Below, you'll find our more detailed reviews, but you can also click the links above to see current prices or read customer reviews on Amazon.
---
As it is made of stain and odor resistant durable Eastman Tritan plastic, this product is suitable for those who don't like the annoyance of a funky smell lurking inside their protein shake containers. This resistance is only beefed up by its dishwasher-safe and is BPA- and phthalate-free feature.
Meanwhile, this bottle shaker is also offering some of the most relevant features people would be looking for if they want a product that has a tight grip and hold. It has a convenient and rubberized SportLoop that makes it easy to carry it if you're on the go.
To top it off, this BlenderBottle is also leak proof guarantee.Promising to deliver services that focus on form and function, this product is available in different color variants and in 20 and 28 ounces.
Pros
BlenderBall Wire Whisk that is made of 316 surgical-grade stainless steel
It comes with Eastman Tritan plastic
Dishwasher safe and is BPA- and phthalate-free
SportLoop feature that makes it easy to carry it anywhere
SportGrip feature that gives a firm hold on the bottle
Leak proof guarantee
---
Cons
Not designed for bikes
Reported leaking issues
Flip lid does not seal or lock properly
Strong plastic smell
---
---
An all-around protein shaker that can be used in your kitchen and at your office or even when biking, this product is ultimately kid-friendly too. It has no batteries and no cords, an ideal product for those who fret over their bottle ending up to their children. Plus, the materials that are used are FDA-approved and are also meeting the European government standards.
Meanwhile, the patented BlenderBall is made of lead-free, polished 316 surgical-grade stainless steel. On the other hand, this flexible product can be used for your nutritious homemade salad dressings, fiber mixes, yogurt smoothies, and a lump-free gravy. Now, there is a reason why some most gourmet chefs are recommending you to experience this.
Pros
It has a shaker ball that mixes even thick ingredients
It comes with a larger drink or pour spout
One of the easiest to clean and is dishwasher-safe
BPA-free
Lid and flip cap are #2 HDPE (high density polyethylene) while the cap is #5 PP (polypropylene)
Materials are FDA-approved
---
Cons
Dishwasher-safe feature is not optimal
Questionable durability
Cracked lids are reported
Flip-top closure mechanism may not be durable
Lids are difficult to open
---
---
Equipped with patented loop top, an ergonomic flip cap and a tapered spout, this protein shaker is ideal for those who are always on the go. This will also work for users who use the container for their smoothies and pancake batter simultaneously. You shouldn't fret over some harmful contaminants in this product as this is dishwasher-safe and is BPA- and phthalate-free.
It has a patented mixing system that uses 316 surgical-grade stainless steel Blender ball. This can be only found in BlenderBottle brand shaker cups. It is also guaranteed to be leak proof and has an embossed ounce and milliliter markings. These are just some of the reasons why this protein shaker is still dominating the competition despite its years in the business.
Pros
Patented carrier loop
BlenderBall Wire Whisk that mixes as you shake; made of 316 surgical-grade stainless steel
Leak proof guarantee
Dishwasher safe
Embossed ounce and milliliter markings
BPA and phthalate-free
StayOpen flip cap that won't close on your nose
---
Cons
Fragile lid
Can easily wear out after continuous use
The bottle could produce a certain smell in the long run
Not very sturdy
No way to know if the lid is properly closed or sealed
---
---
If you're into adding supplements apart from the protein powder in your bottle, then this container might work for you. It features the ProTak system that adds storage capacity for powders, pills and other liquid as well. It comes with a 22 oz capacity and has measurement markings to 16 oz along with 150 cc jar, 100 cc jar and a pill organizer.
It is also armed with the product's proprietary BlenderBall wire whisk that makes it easy to dissolve the powder without lumps. Your worry of spilling it somewhere should be over as this one comes with two fully independent storage jars with Twist n' Lock technology; a space-saving pill tray is also provided.
Along with the product's BlenderBall, this product likewise comes with a 100 percent leak proof guarantee and a BPA- and phthalate-free feature.
Pros
Space-saving pill tray
Two fully independent storage jars with Twist n' Lock technology
Proprietary BlenderBall wire whisk that aids mixing as you shake
ProTak system that add storage capacity for other supplements
Top rack dishwasher safe
---
Cons
Fragile lids
Twist n' Lock technology doesn't operate that well
Shaker ball doesn't mince protein powder efficiently
Ineffective flip cap
Questionable build quality
---
---
Marketed as a smart new take on shaker cups, the SmartShake shaker cup is equipped with three convenient compartments for powder and other supplements. It comes with a patented Snap-On strainer that easily mixes powdered drinks, sauces and dressings without having to worry on clumps.
The strainer is also designed to mix the thickest ingredients. This product is made of BPA-free materials that also render a dishwasher-free feature. You can make use of this product inside a freezer or a microwave.
And with two or more cups, you can mix and match the interchangeable pieces to create a set of unique multi-colored cups. And with just some of these features, this is inarguably a suitable product for those who are always on mobile.
Pros
It comes with three compartments that can store additional supplements
Proprietary Snap-On strainer that prevents clumps from developing
Dishwasher, microwave and freezer-safe
Made of high-quality BPA-free plastic material
Can be transformed to multi-colored cups
---
Cons
Fragile materials
Complicated design makes it difficult to wash
Problematic liquid storage capabilities
Plastic smell becomes more pronounced at times
Wobbly lid flap
Final Thoughts
As I am very much a flexible individual, this core trait of mine should also represent the protein shaker that I would choose. This flexibility should also be equipped with durability, reliability and best of fall, the fun that should come with it. The BlenderBottle SportMixer Tritan Grip Shaker Bottle is just that right protein shaker for me.
More importantly, I require my protein shaker to be efficient in dissolving the protein powder. This product is without a doubt efficient in what it does. And to add its availability in various color variants, this one wins by a landslide.
Do you think I got it right with my top pick? If not, I'd like to hear your thoughts on the comment section below. And if you could add your experiences as well in selecting the best protein shaker in the market now, that would be swell!
Reader Interactions