Do you want to buy a new pair of knee sleeves for maximum protection when performing squat exercises? Then set your worries aside as we help you buy the best knee sleeves for squats. Due to the growing popularity of knee sleeves, several brands have been available in the market which makes it too difficult to choose the right one.
In performing squats, your knees are heavily engaged. To protect your knees from potential joint and muscle injuries and quicken the recovery, wear some knee sleeves. To get you started with your purchase, read our reviews and purchase guide.
**Below, you'll find our more detailed reviews, but you can also click the links above to see current prices or read customer reviews on Amazon.
Knee Sleeves Vs Knee Brace Vs Knee Wraps
Via:www.rxdsleeves.com
To the eyes of a novice, knee sleeves, knee brace, and knee wraps are all the same. However, if you learn more about each knee accessory, you'll realize that each has a specific purpose. The knee sleeves are meant for support while the knee brace and knee wraps are intended for injuries and lifting heavy weights, respectively.
To learn how to put on your knee sleeves, watch this video.
While the knee sleeves and knee wraps are worn for support and compression, the knee braces are normally used if you have an existing injury. The knee sleeves don't serve as a substitute knee like what a knee brace typically does. You can wear the knee sleeves before and after your workout.
Advantages Of Knee Sleeves
One of the advantages of knee sleeves is the prevention of injuries when doing high-impact sports, like powerlifting, basketball, and Crossfit. Squats rely heavily on knee movement so wearing a knee sleeve can help decrease the trauma. In simple words, the knee sleeves help prevent injuries by offering sufficient compression and support.
While doing squats, the sleeves offer elasticity which allows you to improve your performance. Even if you're not working out, you can still use the knee sleeves to improve blood flow. During the cold months, the knee sleeves can add warmth to your legs.
What To Look For
1. Durability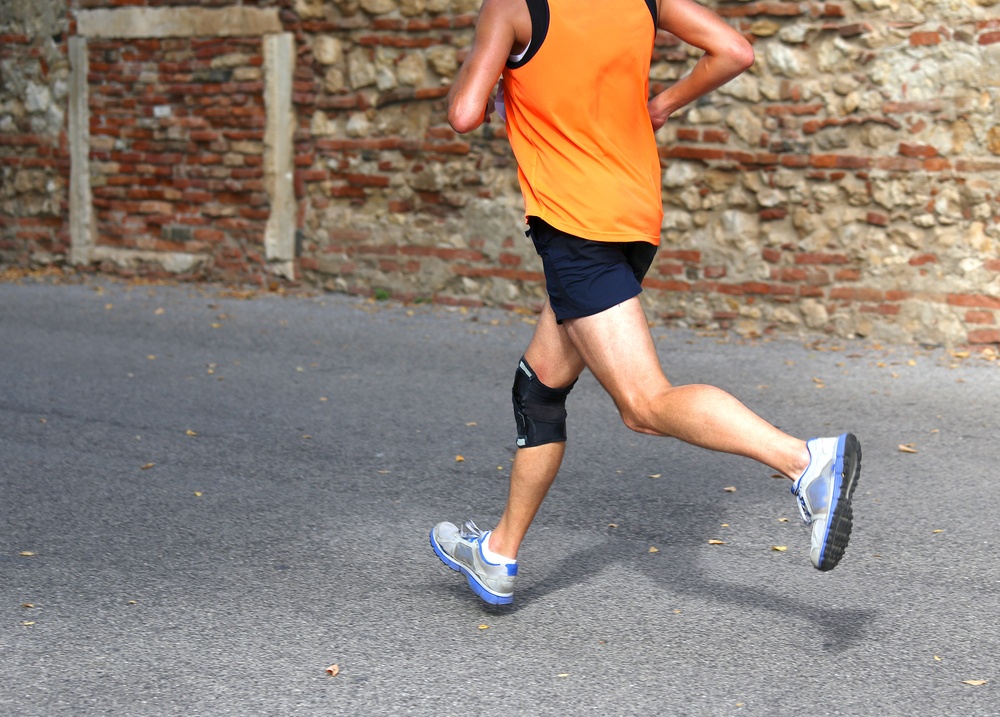 If you do squats frequently every week, then you need a pair of knee sleeves that don't rip after several uses. Most durable knee sleeves are made of neoprene, a soft and flexible synthetic rubber material. Although cloth is more breathable, it may lose its shape over time with constant stretching.
For maximum durability, look for heavy-duty construction that features reinforced stitching. This prevents the knee sleeves to get ripped after multiple washes and wear.
2. Thickness
The thickness of knee sleeves may vary depending on their usage areas. The different thickness measurements are 3 millimeters (mm), 5 mm, and 7mm. If you have maximum support, look for the thickest model of knee sleeves which is 7mm.
The 3mm thick sleeves are mainly useful for running and other endurance sports. The 5mm thick sleeves may offer versatile benefits in various training where endurance and support are both needed.
Meanwhile, the 7mm thick sleeves offer additional support during rehab and provide the most powerful stability when doing heavy lifts.
3. Comfort
The best knee sleeves for squats shouldn't only offer excellent support and compression, but they should also be comfortable to wear. As much as possible, look for a knee sleeve that doesn't chafe your skin and make you itchy.
Sometimes, the fit affects the comfort of the knee sleeves. For a comfortable fit, look for a 3-D design because it allows the knee sleeves to fit snugly without digging deep into your skin. An ergonomic sleeve design also ensures a comfortable fit.
4. Excellent Grip
You want a pair of knee sleeves that stay put in your kneecap even when doing various positions. You don't want something that rolls off or slides down. To ensure a better grip, look for a non-slip design in the inner layer.
Also getting the right size is crucial in buying a stable sleeve. To get the right size, go 15 centimeters down from the mid-patella and measure the circumference of that area. For extra tightness, size down or use the normal measurement if doing regular sports.
5. Anatomically Shaped
Anatomically shaped knee sleeves offer both warmth and compression efficiency. In addition, it helps improve performance and prevent injuries. When we say anatomical fit, it means conforming to the body' motions, guaranteeing that the sleeves remain in place during squats.
Our Top 5 Picks
**Below, you'll find our more detailed reviews, but you can also click the links above to see current prices or read customer reviews on Amazon.
1.iDofit Knee Sleeves ( A Pair Of 2) Support And Compression
The iDofit Knee Sleeves are made of heavy-duty neoprene material with a 5-mm thickness. This makes the knee sleeves fit for any sport or activity you want, including squats. They promise to offer optimal compression and support. If you purchase the wrong size, don't worry because you can get a full refund through its money-back guarantee.
This pair of knee sleeves have distinct 3-D reinforced stitching to offer durability, comfort, and full mobility. They perfectly fit without itchiness and can retain their shape after several washes.
Pros
Comes with a money-back guarantee and free replacement
Very affordable for a pair of two
Features a unique 3-D design for full mobility
Offers adequate compression and support
Doesn't itch
Cons
Not durable as advertised since the sleeve may rip during squats
The fit is a bit off
Too tight for comfort
2. Exodus Bodygear 7mm Thick Knee Sleeves Compression And Support
The Exodus Bodygear Knee Sleeves are made of a higher standard of neoprene material for great warmth, support, and fit. The 7-mm thickness makes the sleeves fit for lifting weights while doing squats.
Unlike other knee sleeves, the Exodus Bodygear offers better injury prevention as it offers a longer 27 cm length to give more coverage around the kneecap, joints, and ligaments. If you found any defects on your purchased pair of Exodus Bodygear, just contact them to get a full refund or replacement.
Pros
Supports a 12-month money-back warranty
Offers better injury prevention
The 7-mm thickness is ideal for all sports activities that involve knee compression
Have a unisex style and fitting
Made of premium SCR neoprene and triple-stitched for durability
Cons
The sleeves tend to loosen up after multiple uses
The thickness can be too uncomfortable
May easily get ripped after several uses
3. ProFitness Knee Sleeve Squat Support And Compression
The ProFitness Knee Sleeves promise to offer optimum support and enhance your performance. The 7-mm thickness gives excellent support and compression on your knees. They're made of neoprene material and crafted with reinforced stitching to last long even after several washes and wears.
The sleeves are ergonomically designed to give a good fit that provides the best comfort and grip. If you're not satisfied with the sleeves, you can get your money back within a year after the date of your purchase.
Pros
Comes with an outstanding 1-year money-back guarantee
Ergonomically designed for optimum comfort and grip
Made of sturdy neoprene material
Fits all types of exercises with its 7-mm thickness
Designed with reinforced stitching for durability
Cons
Fits too Small
A bit bulky
4. Mava Sports Pair Of Knee Compression Sleeves
The Mava Sports Knee Compression Sleeves are proven to assist muscle recovery and prevent injuries. The sleeves are anatomically shaped to increase performance and provide a snug fit.
The 7-mm thickness offers the best compression while that anatomical fit provides better stability. For durability, the knee sleeves are made of neoprene material and are double-stitched. Aside from squats, the sleeves are perfect for cross-training, powerlifting, and weightlifting.
Pros
Give excellent support and compression
Has an anatomical fit
Provides a recovery function and a warming effect
Built to last with its double-stitch reinforcement
The 7mm thickness is ideal for all sorts of intense activities, including squats
Cons
They can be hard to remove because they're too tight
The sleeves can easily tear after several weeks of use
Can make your kneecaps wet and clammy
5. Nordic Lifting Knee Sleeves (1 Pair) Support And Compression
The Nordic Lifting Knee Sleeves are made of neoprene material all throughout. With their 7-mm thickness, they offer optimum support for both men and women. If you bought a defective pair, you can get them replaced without any hassles within one year after the date of purchase.
The sleeves are ergonomically designed to give a snug fit and extra comfort. They're crafted durably with their reinforced stitching. Aside from injury prevention, this pair of sleeves promise to increase performance, hasten recovery, and give a warming effect.
Pros
Ergonomically designed for excellent fit and comfort7-mm thick to give excellent support
Comes with a 1-year manufacturer's warranty
Crafted with reinforced stitching for durability
Made of 100% neoprene for flexibility
Cons
A bit expensive as compared to similar products
The tightness can become loose over time
The stitching material is very light for durability
Verdict
Based on our ratings above, the best knee sleeves for squats are the ProFitness Knee Sleeves because they have met most of the features that we desired. Specifically, this pair has a 7-mm thickness, durable, comfortable, and has a good grip with the sleeves' ergonomic design. The manufacturer is so confident with the sleeves' quality that it offers a 1-year warranty.
For more questions and suggestions, don't hesitate to leave them in the comments section. Don't forget to share this article if you find this informative. Read on and find out more!